We have installed over 15,000 meters of the Simtrack rail into Flemington. This is an excellent product.
Liam O'Keeffe Senior Track Manager
Flemington Racecourse 
MODERN DESIGNS, SUPERIOR QUALITY
On the right track
Simtrack have dedicated countless hours to overcome the fundamental compromises associated with traditional rail design. We have developed systems that are unique in approach and performance in terms of safety, manoeuvrability, longevity and value. Our highly advance products, combined with our fixation for excellence in customer service, have made Simtrack rails the Australian horse racing industry's rail of choice.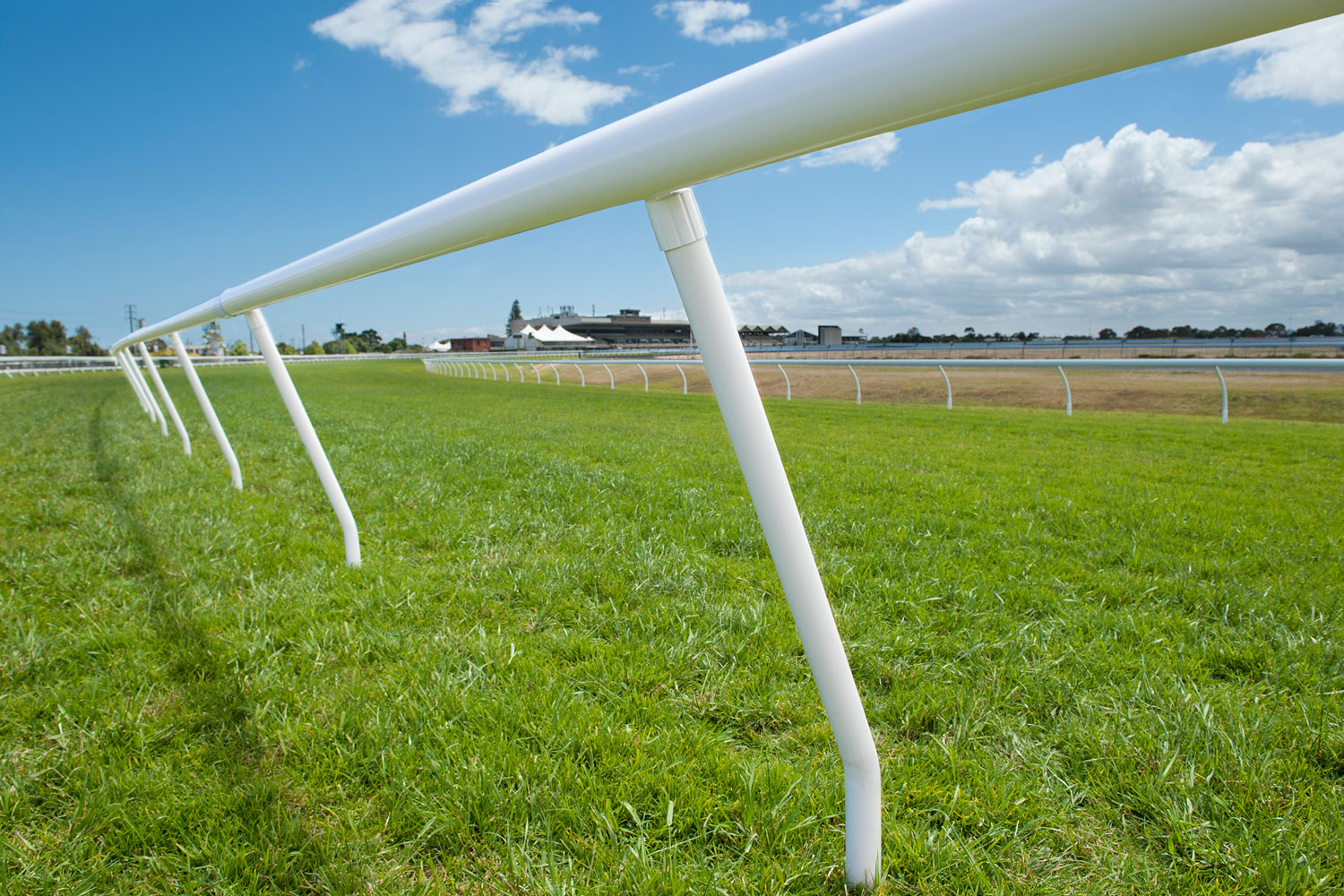 After thousands of hours of research and development, Simtrack's "Break-away" fixed rail system has redefined horseracing's idea of "the fixed rail". Our revolutionary patented design stands alone as the single most profound progression in fixed rail safety to occur globally in decades. If the horse or rider should fall, the post breaks away on impact, drastically reducing the potential risk of injury.
In addition, our exclusive post to rail twist lock cap is by far the quickest, simplest and most effective design ever seen in plastic running rails. By using fewer components, it provides faster attachment of the posts to the rail and reduces instillation and re-location times by up to half of other rail systems.
As with the Fixed Break-away design, the movable system protects horse or rider should a fall occur, with posts breaking away. However this entire system has been specifically developed to make re-locating the rail as fast and easy for track staff as possible, saving significant labour hours compared to alternative products. Recently installed to cover ALL course proper rail raced against at both Sha Tin and Happy Valley in Hong Kong, the head of race day operations, tracks & facilities Mr Higgins called the Simtrack Movable System "the way forward for enhanced safety
Less to handle, less to maintain.
The beauty of this system is that it consists of only the ground tube, post, rail and the joint sleeve. The brilliantly simple sleeved rail joint provides a highly refined and effective connection between rails. The secure fit of plastic posts to ground tubes means they will provide superior support for the rail at all times. Add the savings on labour to the already highly competitive price and you have a rail that truly is in a league of its own for affordability.
AAA grade materials
The most advanced 100% Australian made P.V.C includes a Twofold UV inhibitor formulation that contributes to sectional durability with an increase in critical joint strength of over 45%.
Our specifically engineered materials will endure exposure to global climates for decades, including the harsh Australian sun.
Our Rail is produced under licence exclusively for Simtrack by Think Fencing.
UV absorber of Benzotriazole + 12 P.H.R. of Titanium Dioxide
Three fold Impact modifier system
Calcium Carbonate and Nano particles + Chlorinate Polyethylene
Acrylic based impact modifier on top providing maximum UV stabilisation
Pushed beyond the limits
Simtrack PVC rail components must pass stringent testing processes to safe guard against shattering through impact, vulnerability to wind and deterioration form exposure to UV light.
Simtrack offers a 15-25 year warranty on our rails against UV damage. Our testing also ensures our rails have enough structure so they won't sag over time or when subjected to high temperatures.
With comprehensive batch identification, the origin of any component can be tracked for quality control.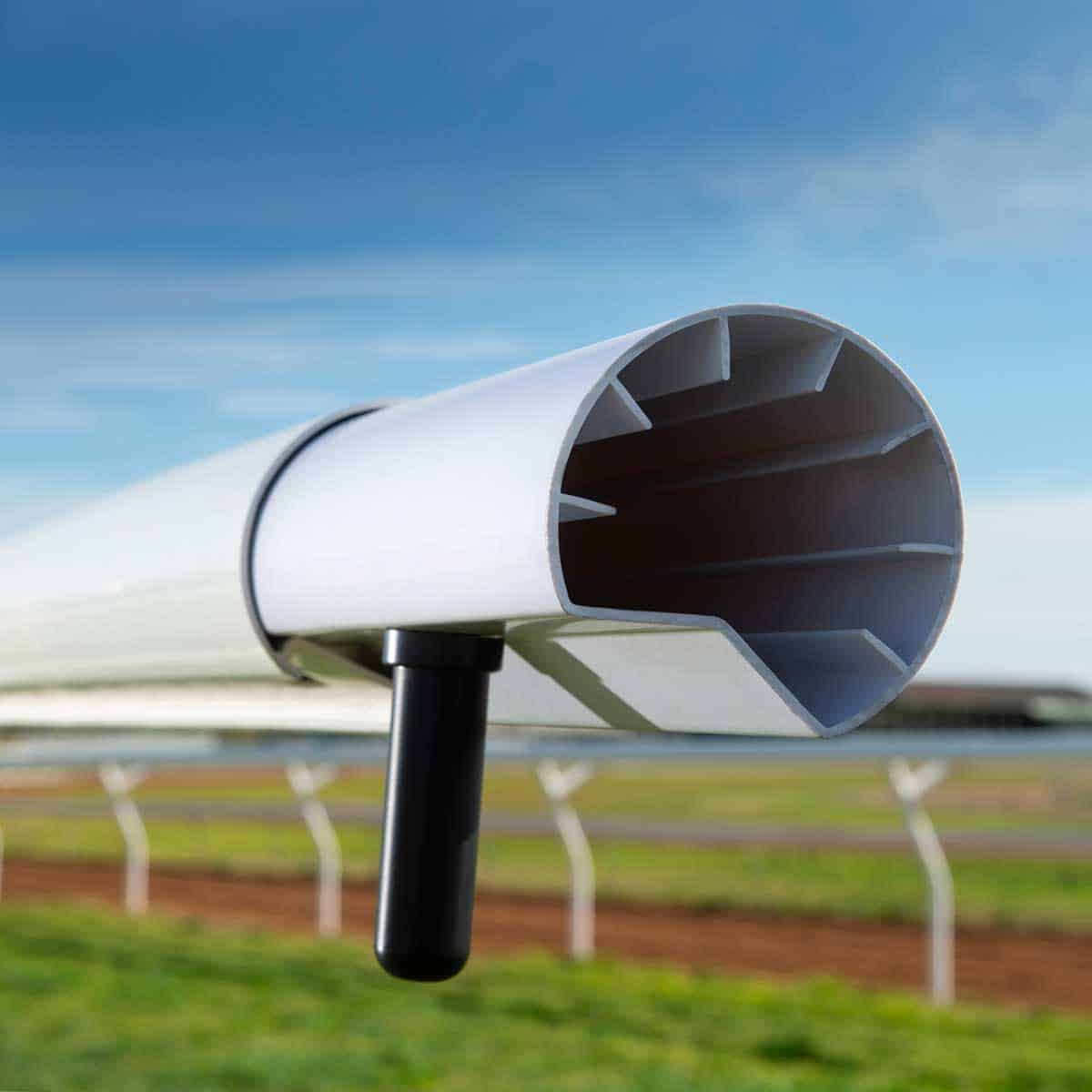 Slide Rails, easily slidable rails for vehicle horse or starting gate access.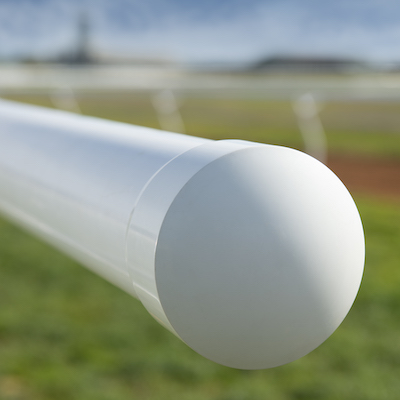 End Caps (caps to close off exposed ends of running rail)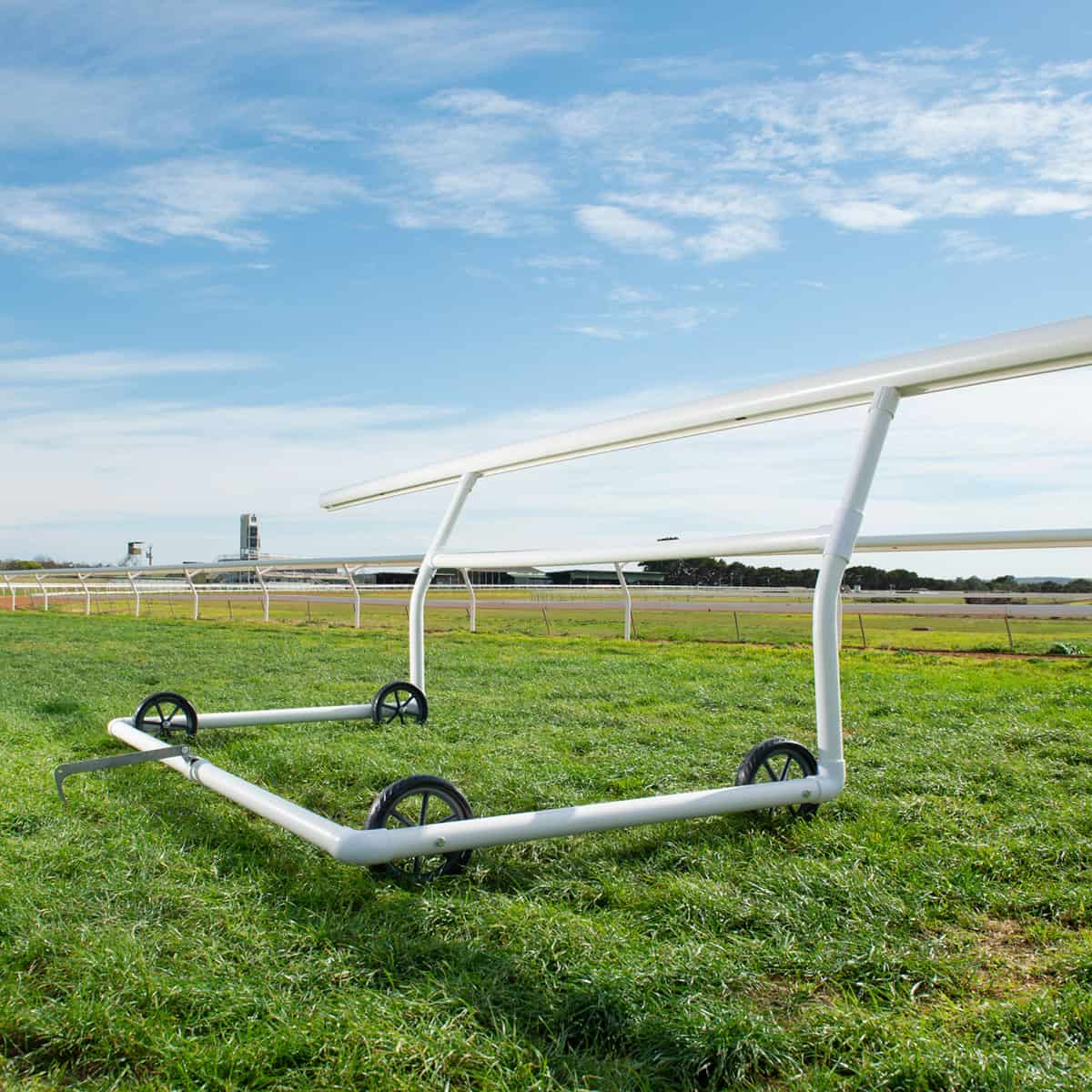 Chute guide rails are used as a temporary guide for horses exiting a track chute. Where the inside of the chute rail ends, these rails take over, bridging the gap and directing horses to the course proper inside rail. The rails can be supplied to move either laterally or longitudinally. In addition these rails can also be used as relocatable barriers for crowd and or horse entry/exit areas.