We found the solid overall construction and
silent opening & closing gates very impressive.
Gerente Hípico

Hipodromo Argentino de Palermo, Argentina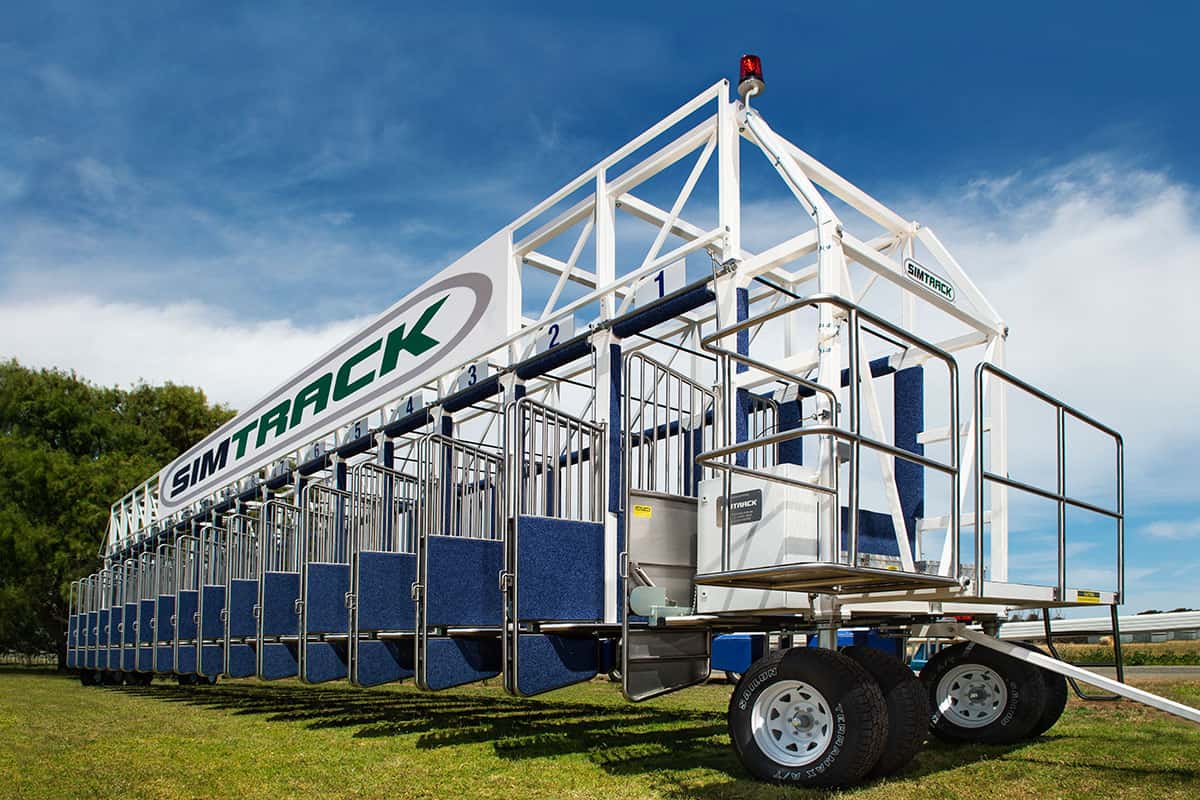 MODERN DESIGNS, SUPERIOR QUALITY
Superior By Design
Simtrack have bought starting gate design into the 21st Century with the first progressively engineered and most technologically advanced gate system in the history of horseracing. We have significantly developed every aspect of operation and functionality for both training and racing purposes.
Simply put, Simtrack gates are the most considered and reliable designs on the market today. Our gates get the maximum from every start by creating the most conducive environment for horse and rider. Simtrack Starting Gates combine quiet operation and reliability to achieve the highest level of safety.

Read More
WHAT IS OLD, IS NEW AGAIN
Mechanical Starting Gate Systems
Whilst the tried and true traditional mechanical system does the job, we at Simtrack believe there was certainly room for improvement. Simtrack's revised design maintains the fundamental aspects of the mechanism but has superior safety, reduced maintenance and generates significantly less noise. Simtrack's starting gate design surpasses the out-dated designs from other producers, while remaining incredible value for money.
Read More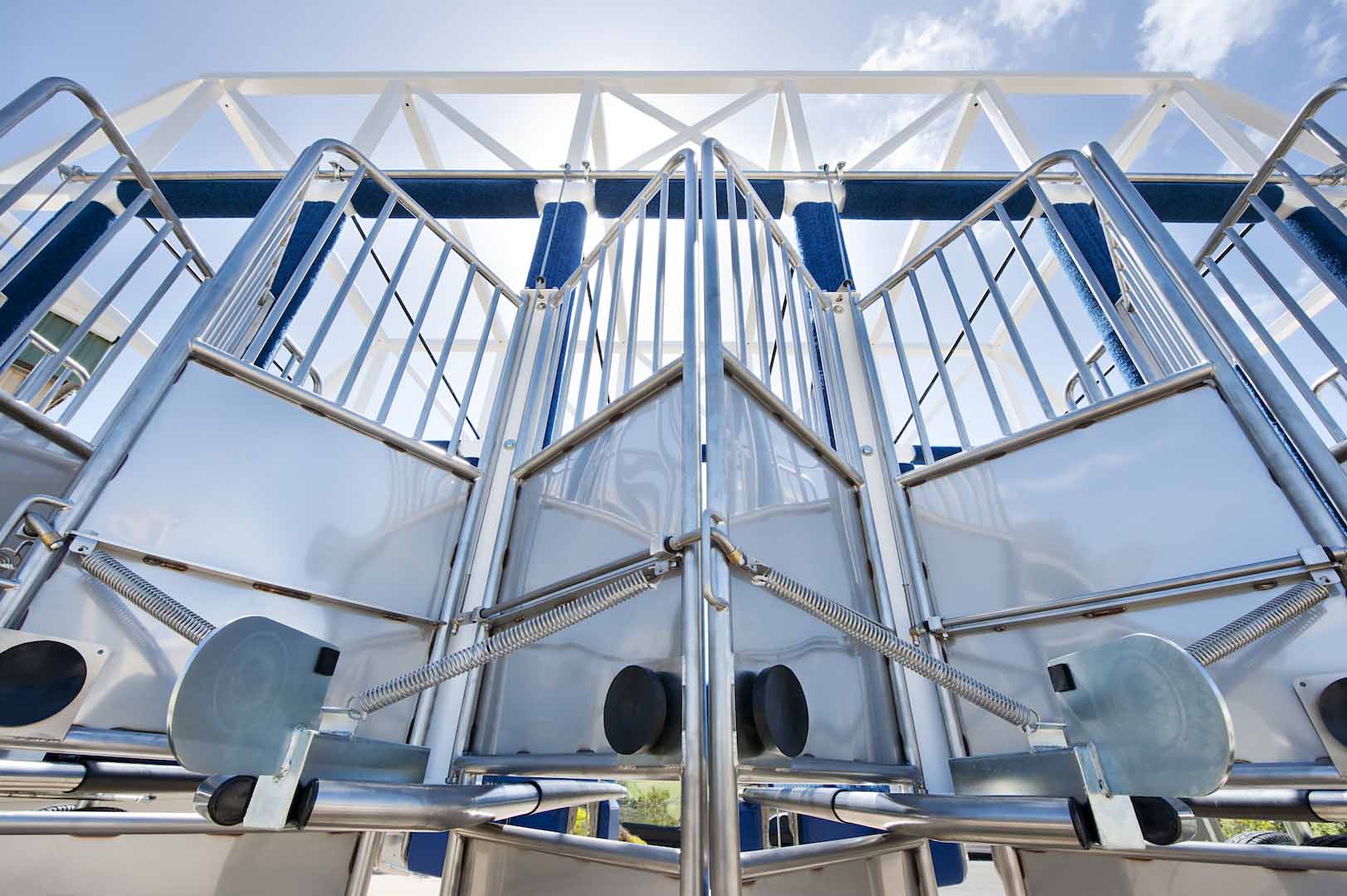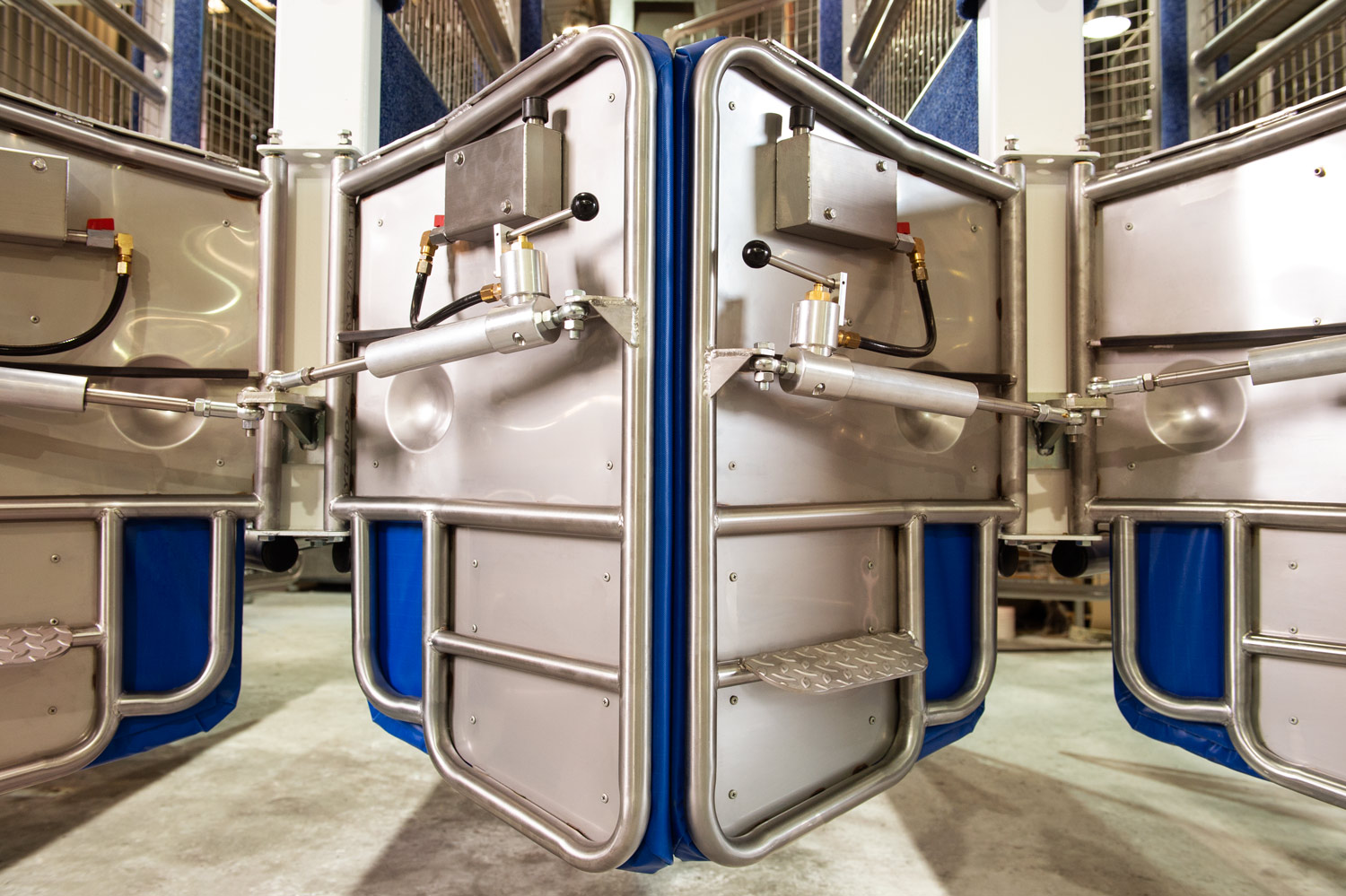 A GIANT STEP FOR HORSE RACING
Hydraulic Starting Gate Systems
Simtrack's hydraulic starting gate system is the pinnacle of horse racing gate design technology. We have taken a holistic approach to redeveloping the starting gate from the ground up when developing our current hydraulic gate system. We've fundamentally improved every component's function, the gates safety and our products durability with our new hydraulic system.
For the first time, an ingenious internal buffer controls the terminal speed of the front gate. This slows the gate in its final 5cm of travel to silence the opening. The combined reduction of noise across the face of the starting gate, to begin a race, is astoundingly quiet and is unmatched by any other starting gate system available today.
The design of the rear hydraulic gates is equally impressive. Activation of the gate's release is possible at any time, even with the horse's full weight upon them, by using Simtrack's single action valve system.
With the extra benefit of Simtrack's exclusive hydraulic operation, the gates can also be progressively locked in any position behind the horse as it enters, reducing the risk of the animal backing out when it is already half way into the stall.
Engineered for the Korean Horse Racing Association, Simtrack have designed rear gates that will open up 25 degrees beyond their normal entry position. With the advantage of 'funnelling' a horse into a stall, the additional angle reduces the likelihood of an animal encountering a problem while being loaded into the stall; especially should they start to track sideways.

Read More
OFF TO A GREAT START
Training Gates
The use of training gates and barriers is a critically important stage in both the horse and rider's development towards becoming race ready. All of our products must meet our exacting standards for build quality and are made from the finest materials. Further, our mobile or fixed training gates are exact replicas of the larger race day stalls, to simulate an actual race start without any compromise to safety.
Simtrack training gates are the industry standard for getting your horse and rider race ready. They are unmatched for quietness, safety and design excellence.

Read More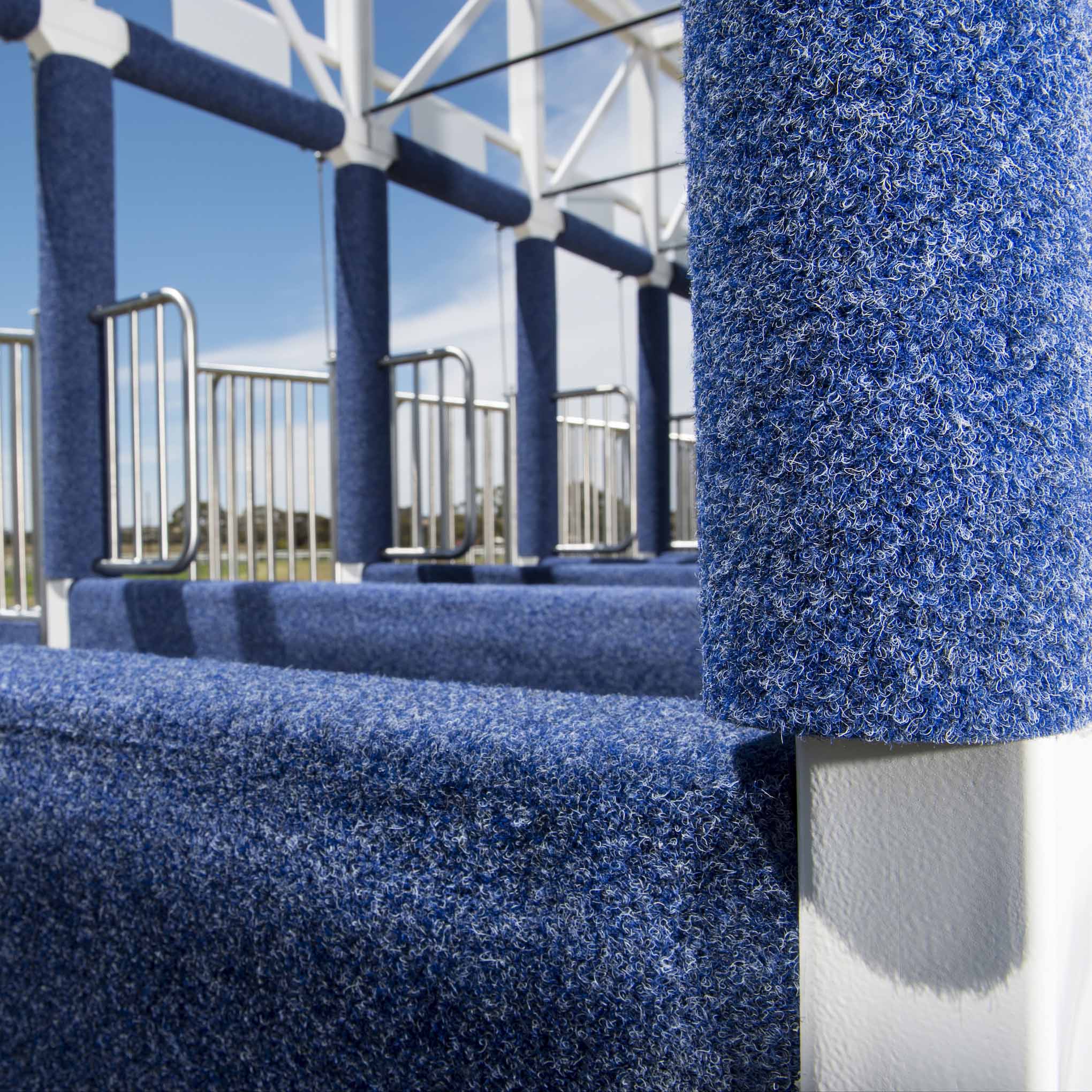 Carpet padding
Sensational sound deadening characteristics
Superior wear and tear
Rot and fire resistant
100% UV protected
Flexible side wall to prevent injury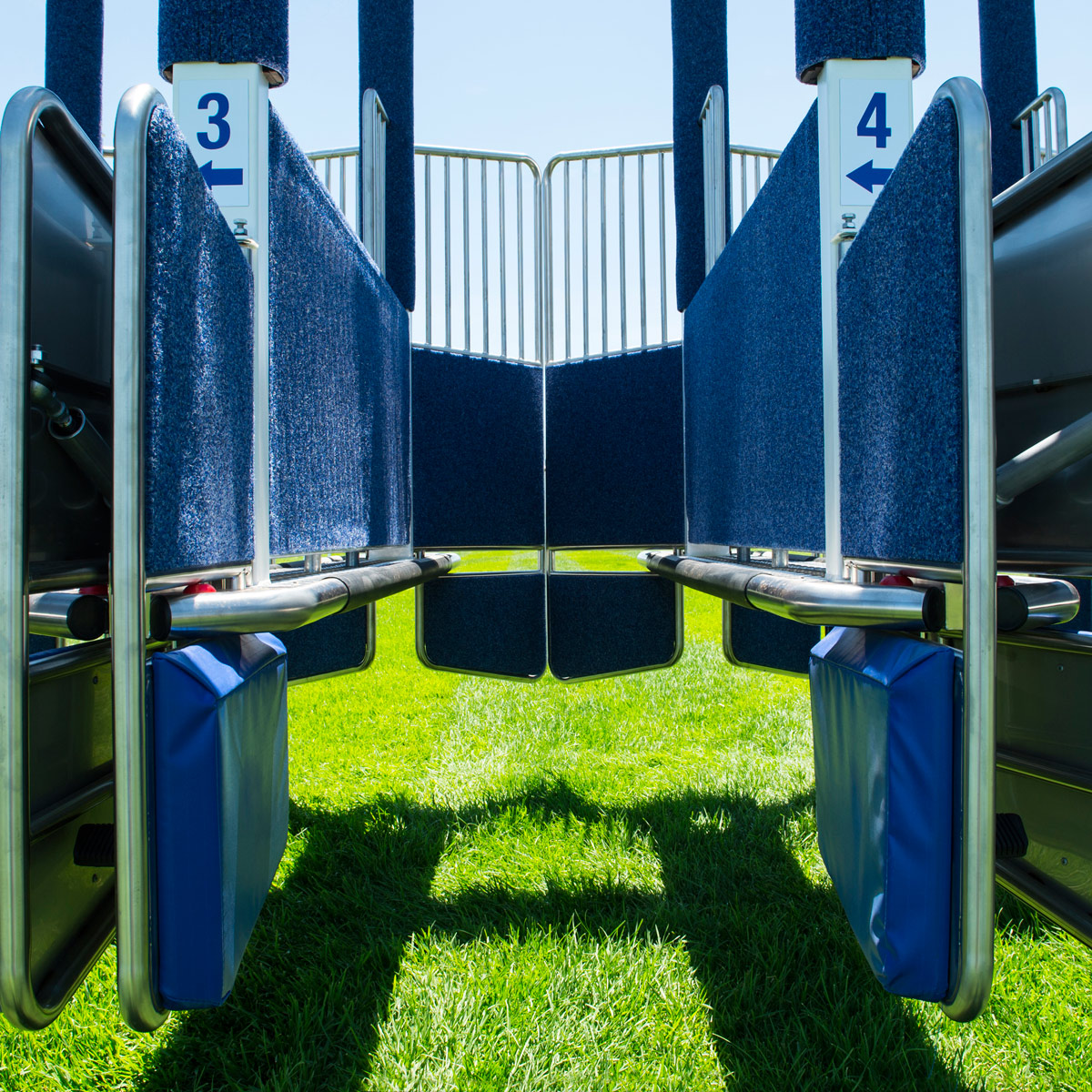 Stainless steel gates and platforms
Incredibly strong
No rust proofing required
Greater longevity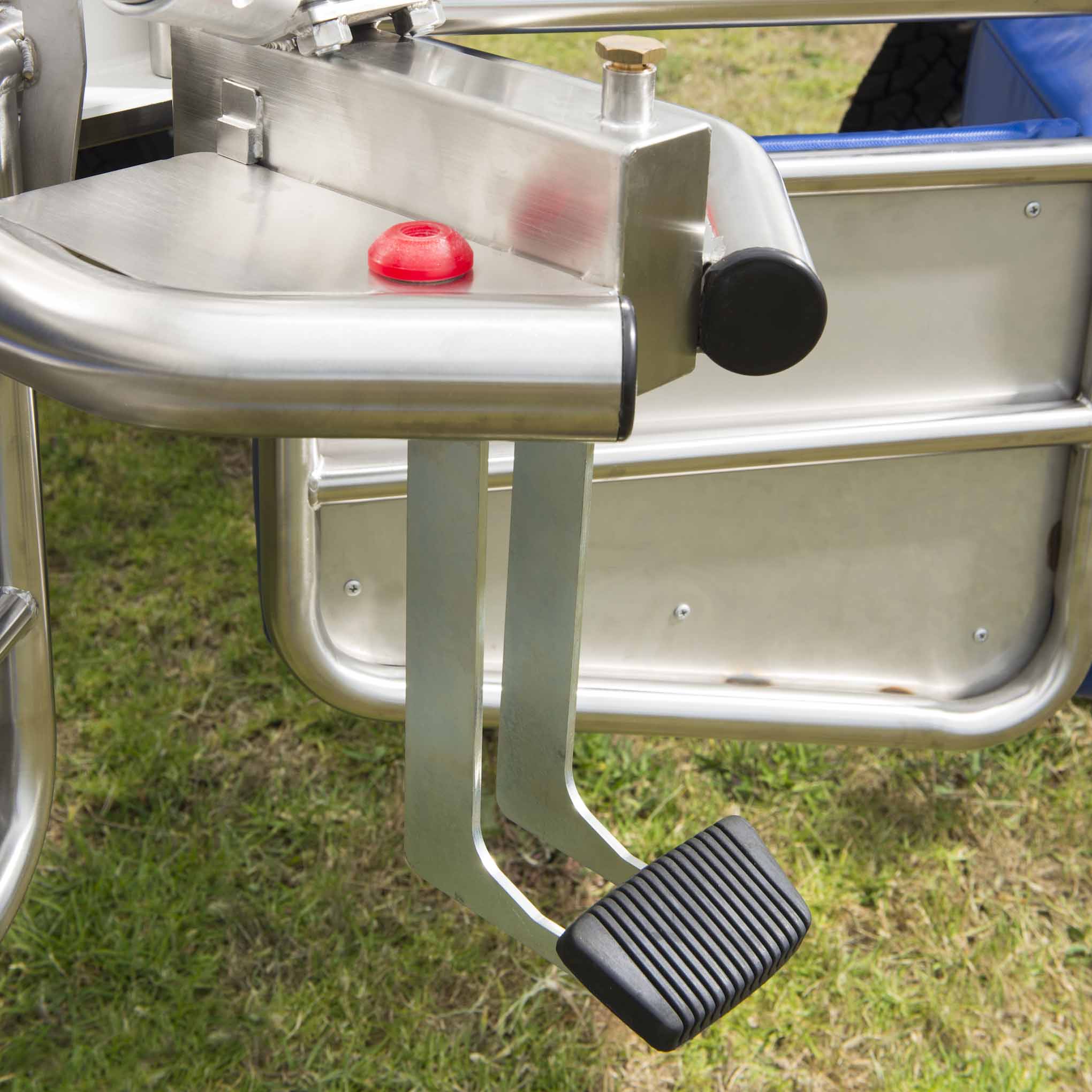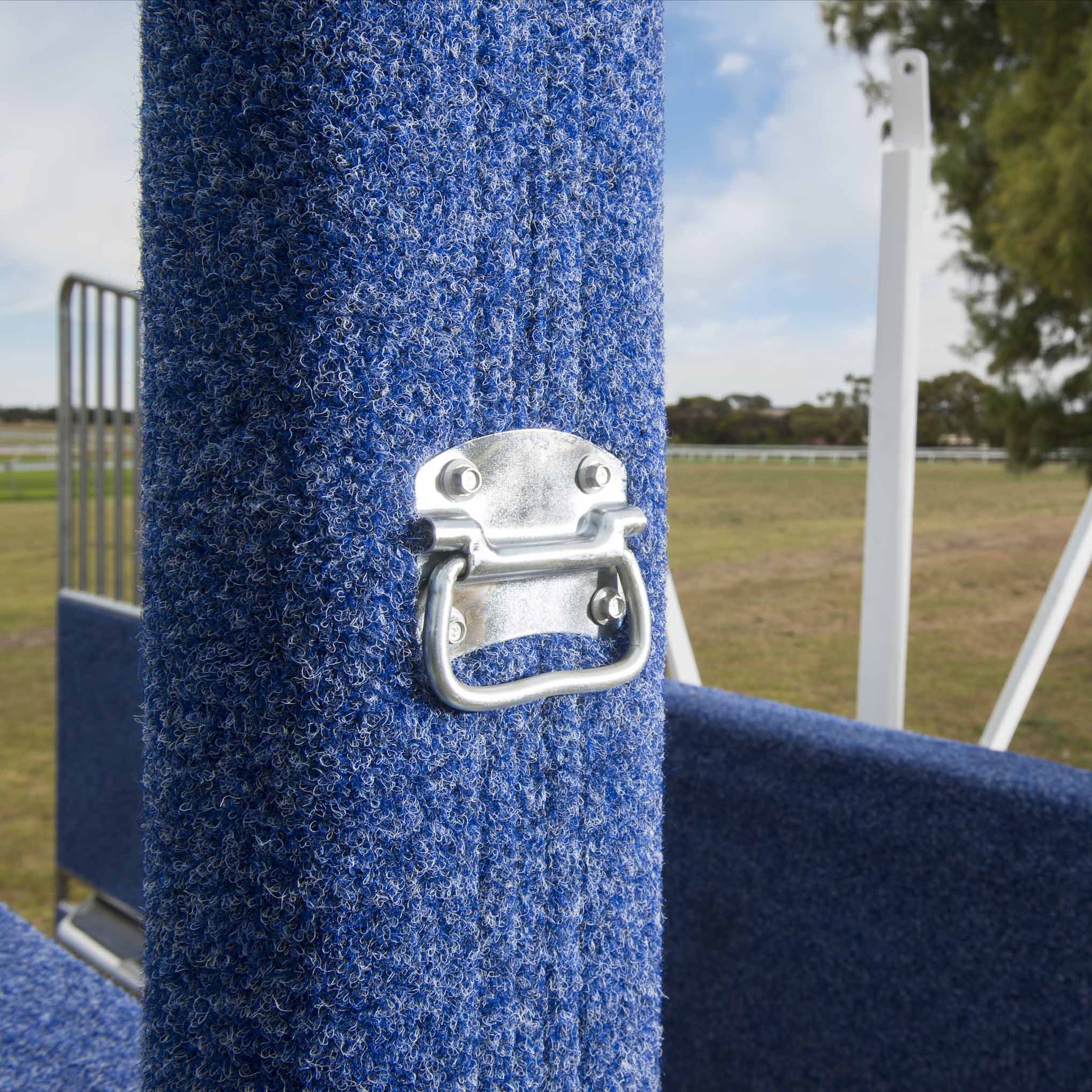 Step up pedal and handle
Safest access and egress
Attached to main division for maximum stability
100% UV and fire resistant
Overhead pull up bars
Stainless steel padded bar
safe exit option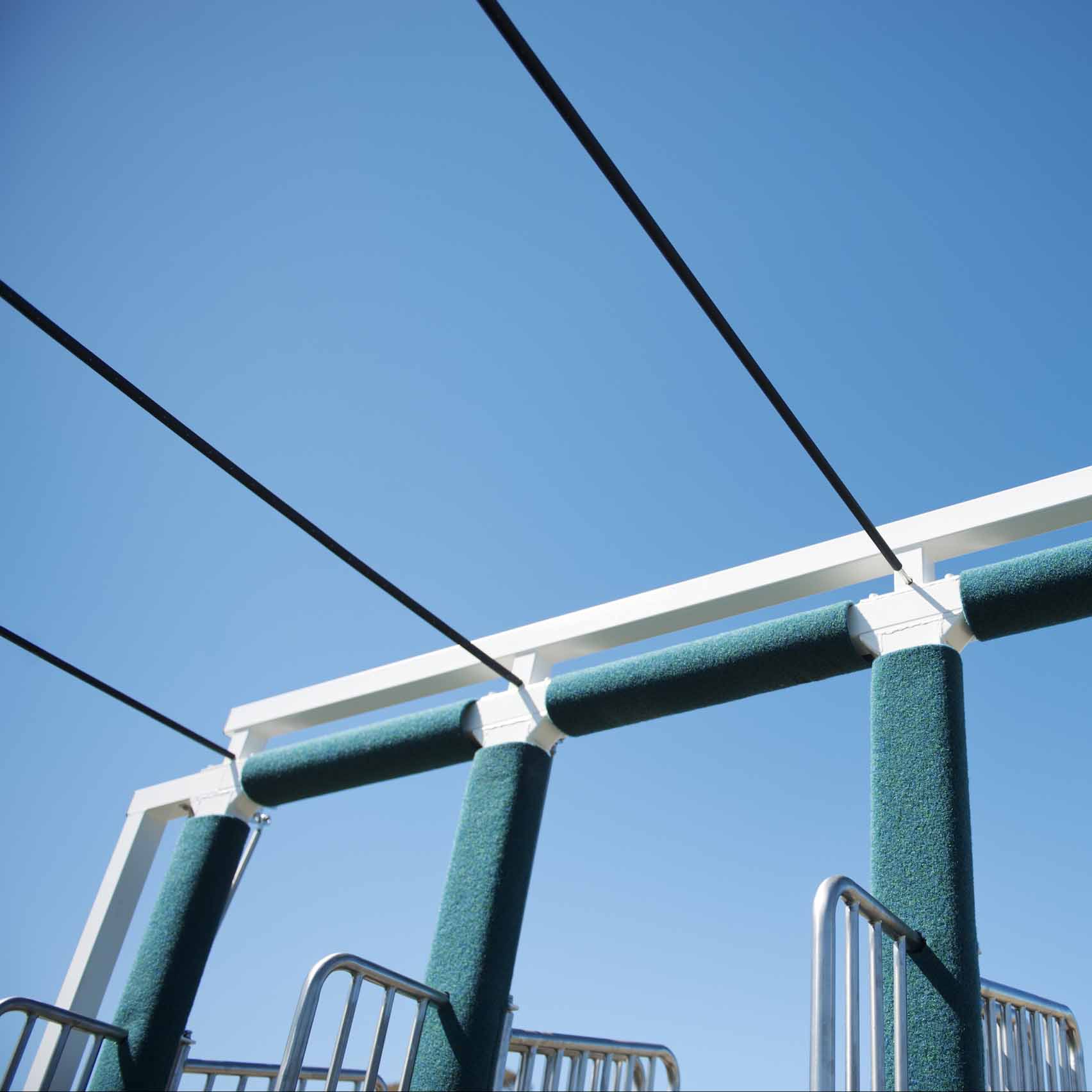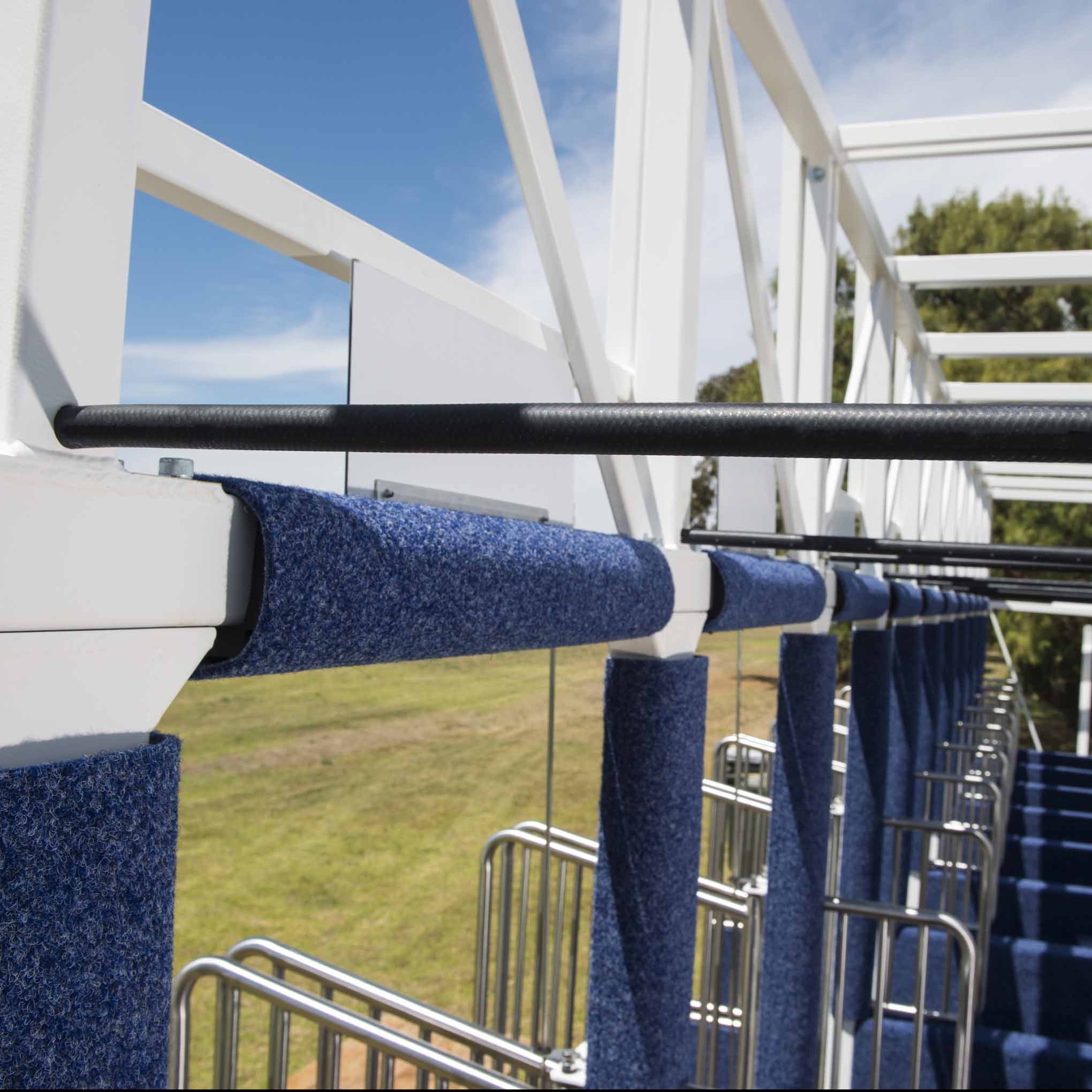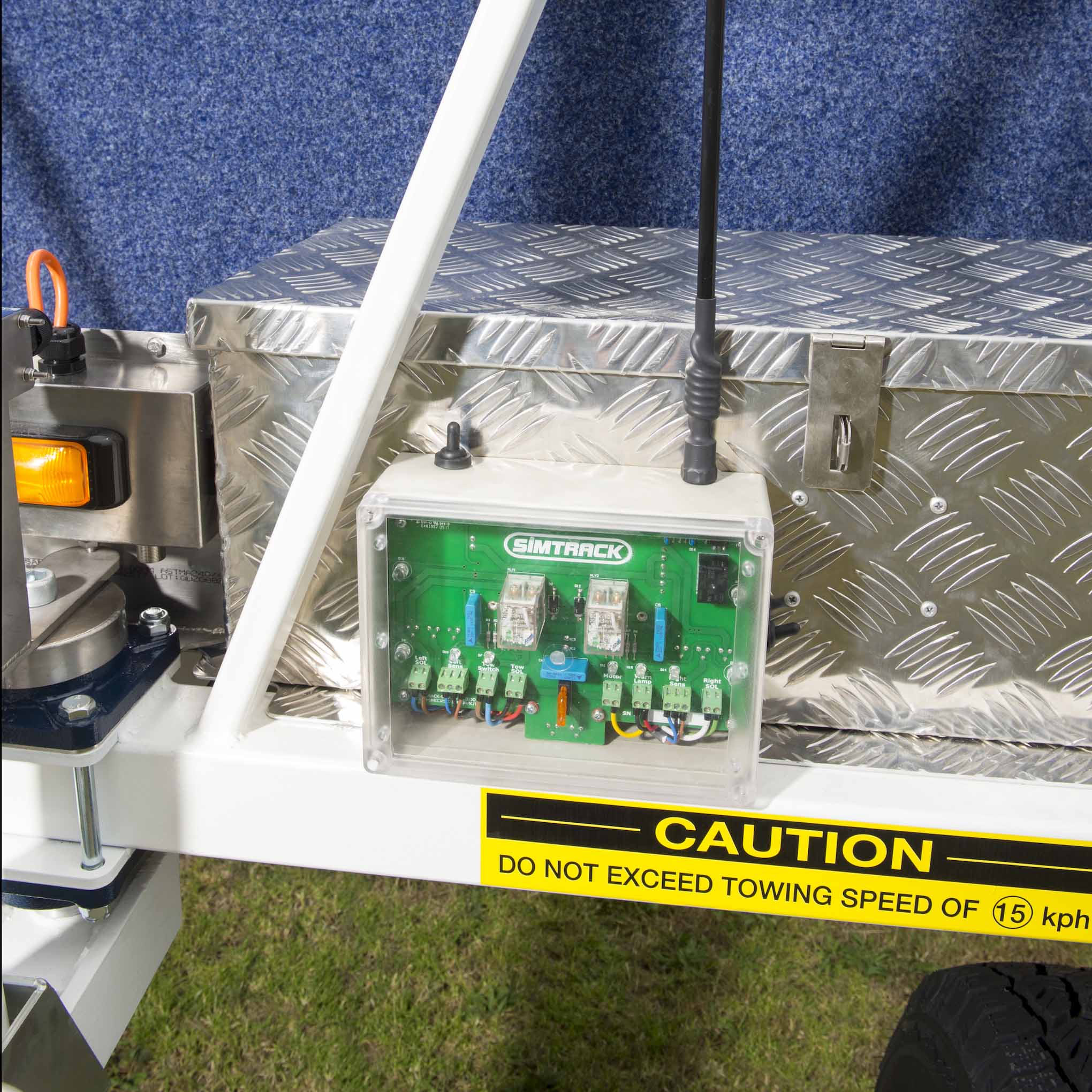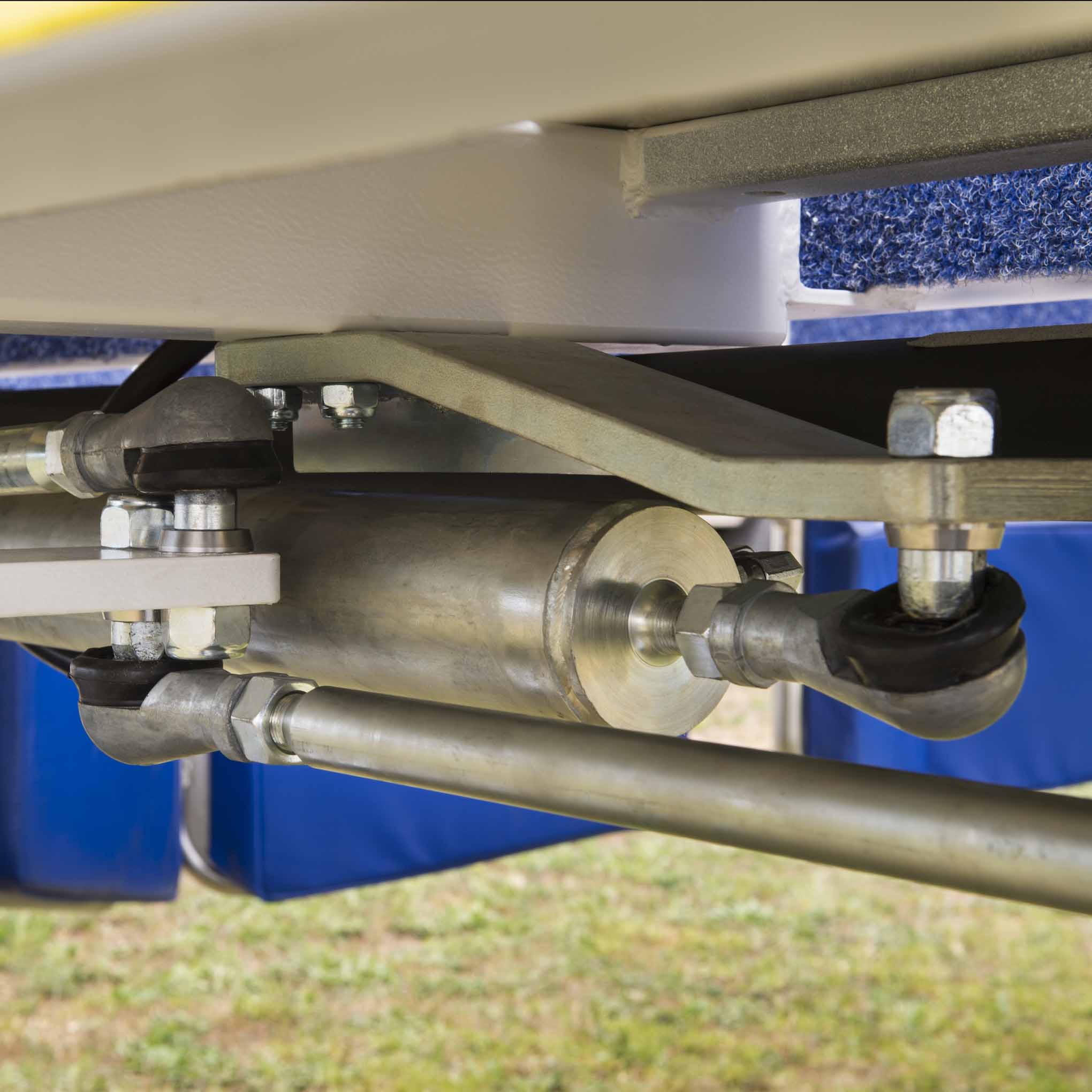 Hydraulic steering
Steering/towing at either end for larger gates.
Self contained controls; no coupling required
Elimination of hydraulic or power lines to tow vehicle.
Three options to choose from.
Remote control for added safety for the operator.
Dual wheels, gentle on race track surface and add greater stability.
Sealed bearings means no maintenance.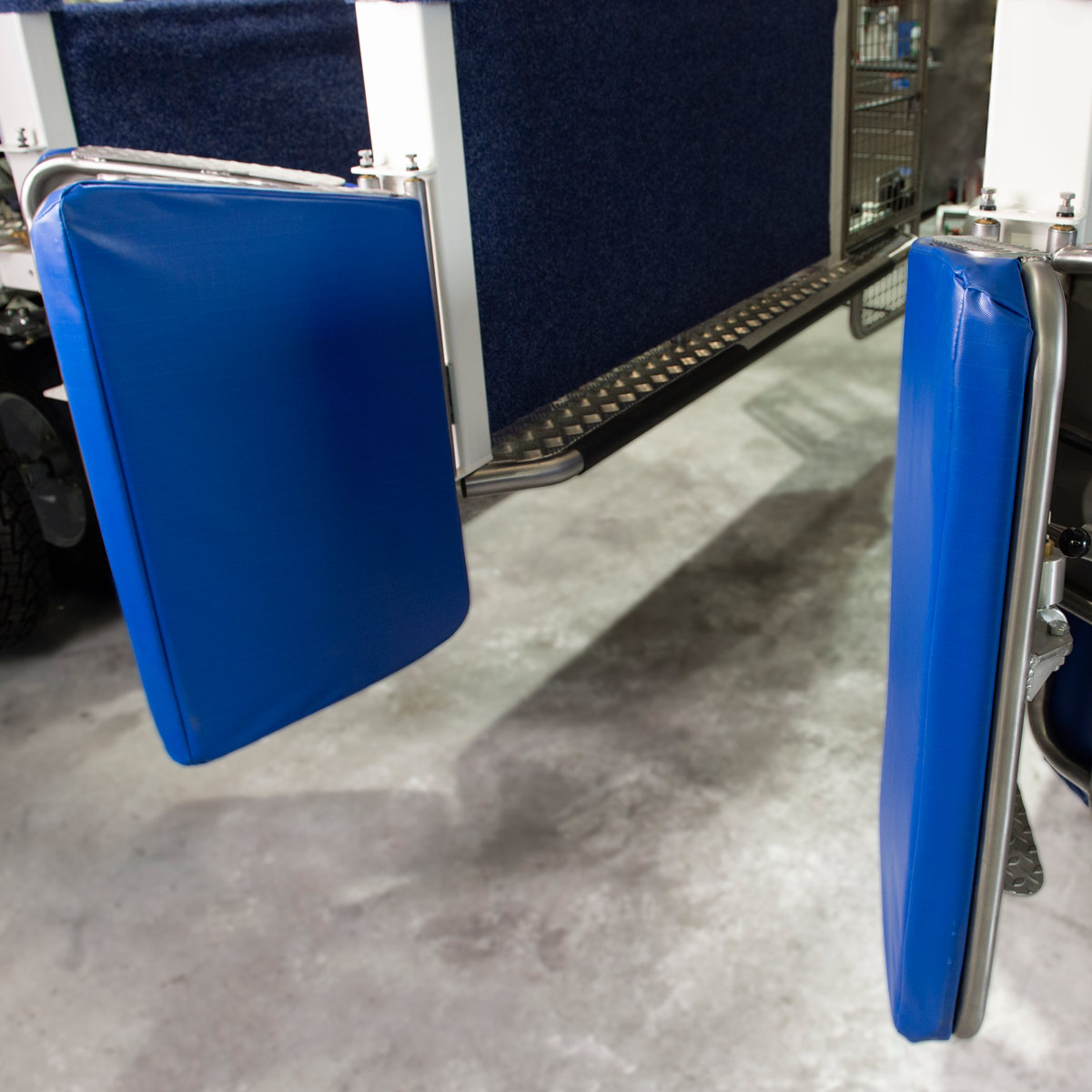 Extended opening capacity (Optional)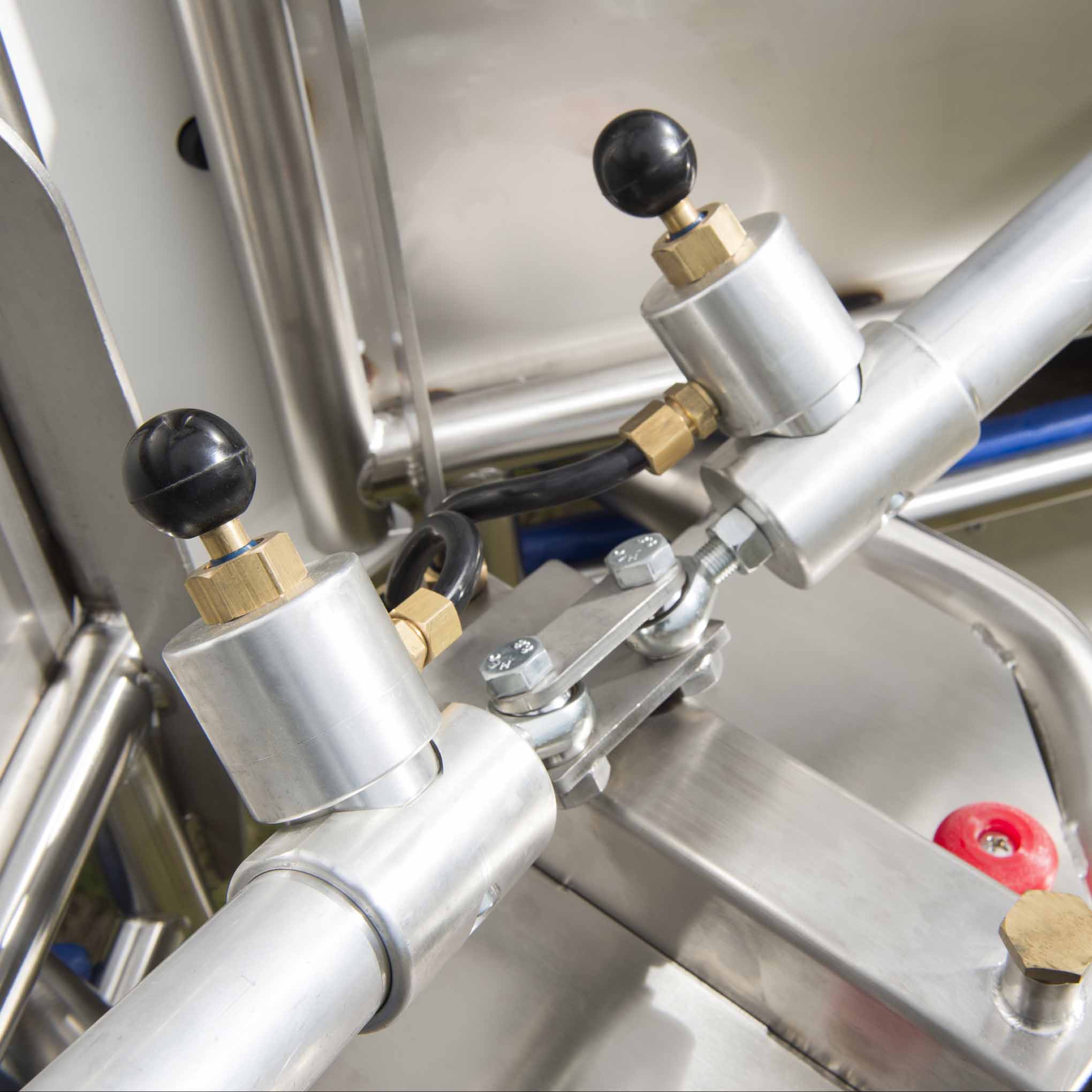 Progressive closure
Hydraulic actuators close the gate.
The gate can lock in any position.
Stops horse backing out.
Greater safety for horse and rider.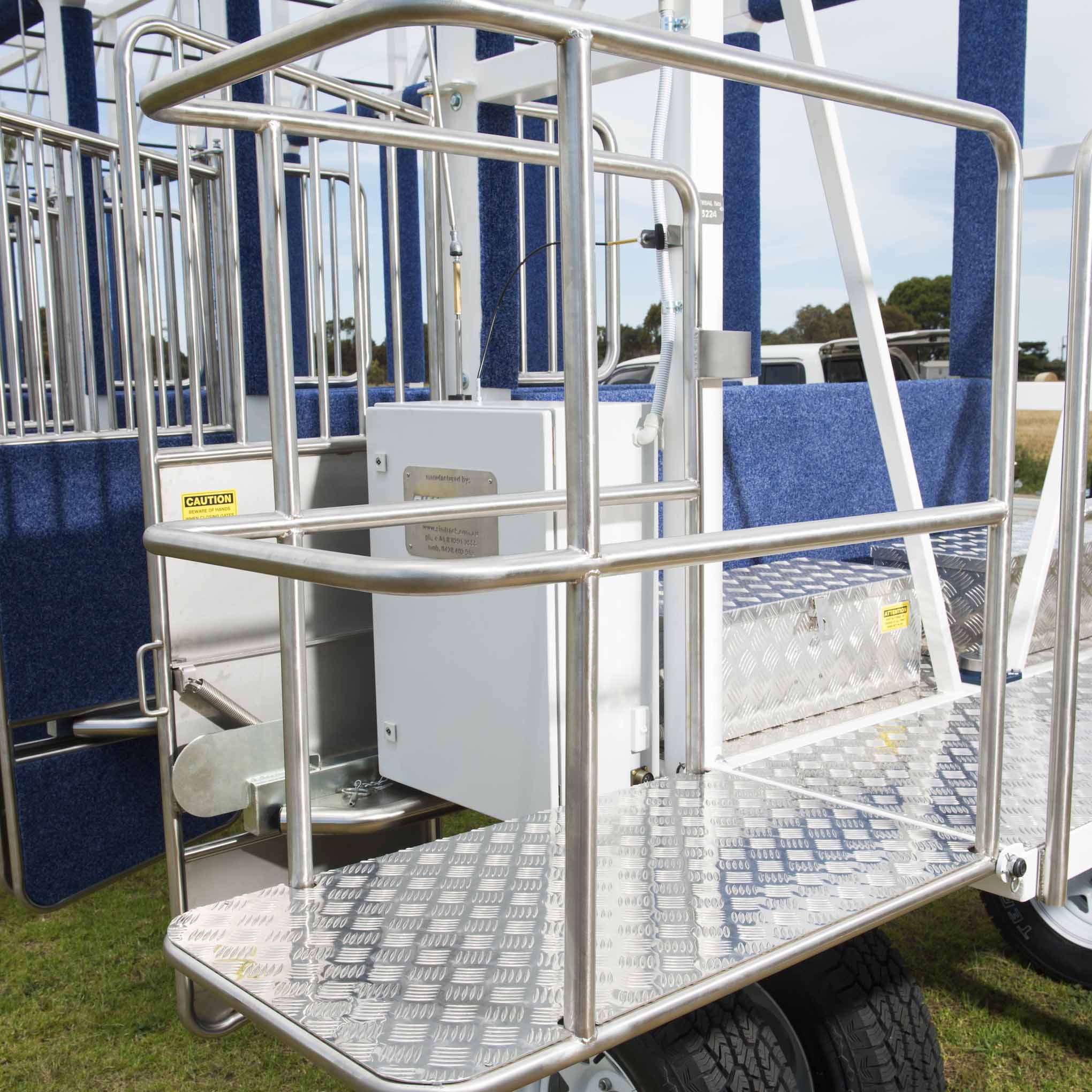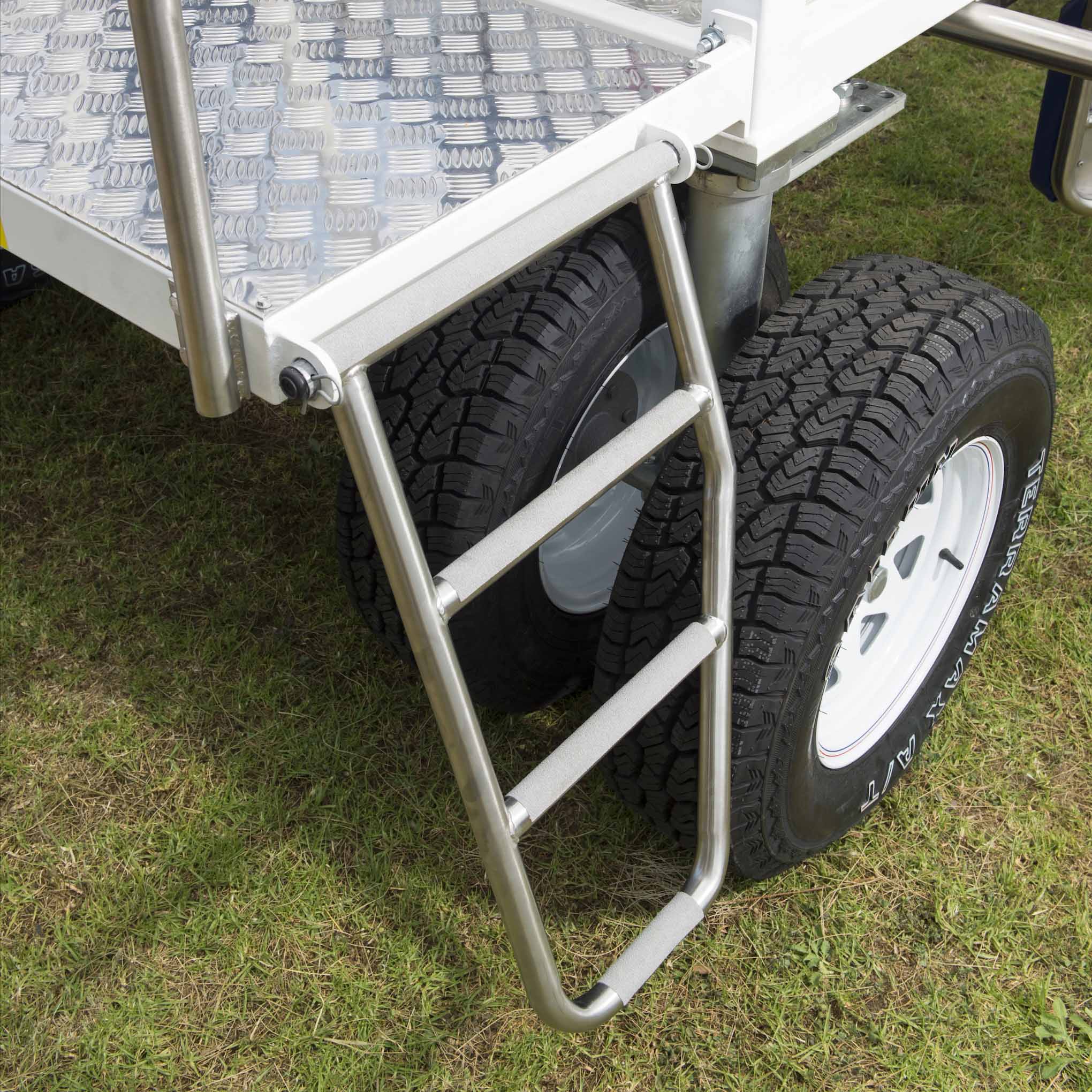 Catwalks (Optional extra)
Gives unencumbered view across the front of gates.
Light weight yet strong.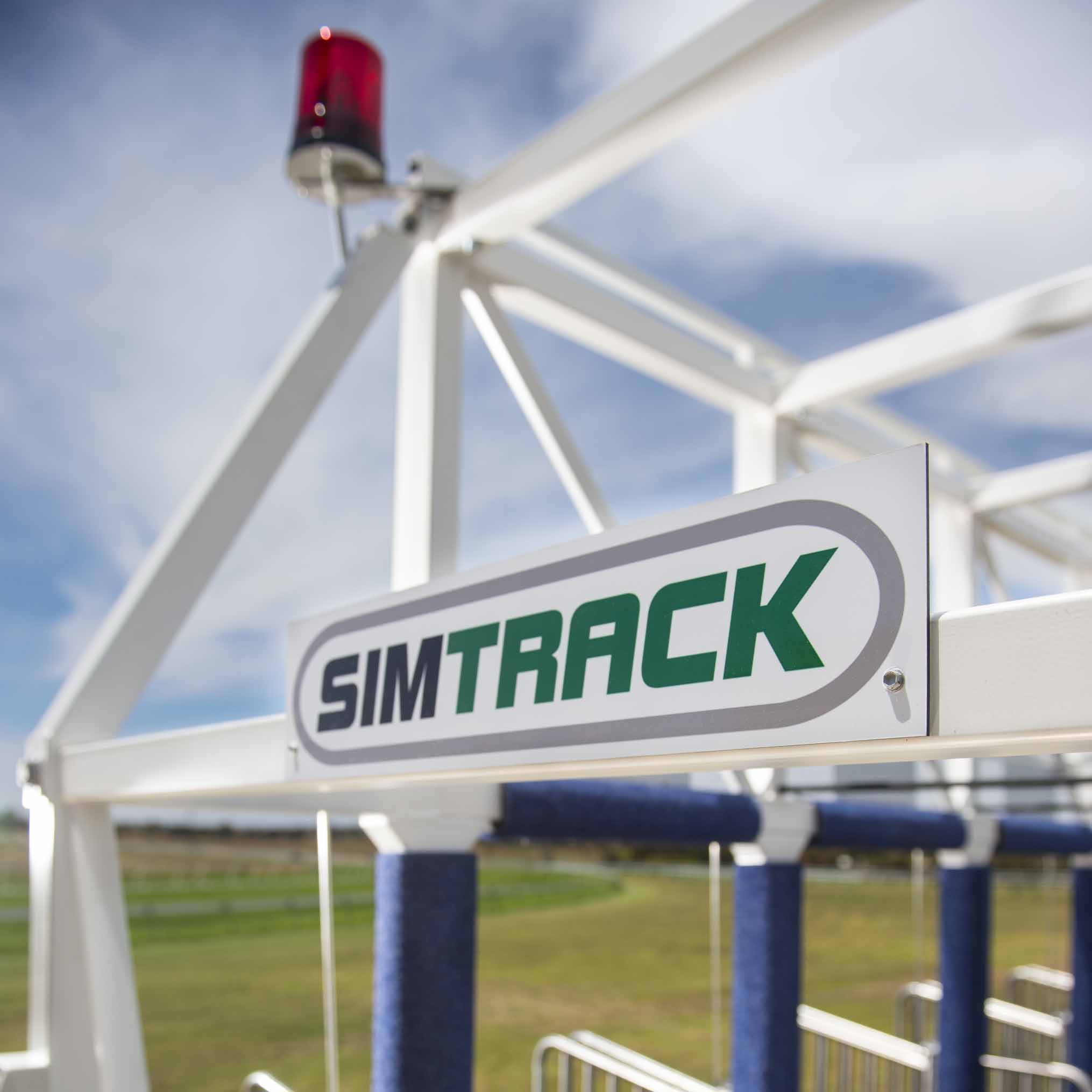 Flashing lights
Options of blue light to indicate loading of horses in progress.
Or, Red flashing light to indicate "Get set" before the actual start of the race.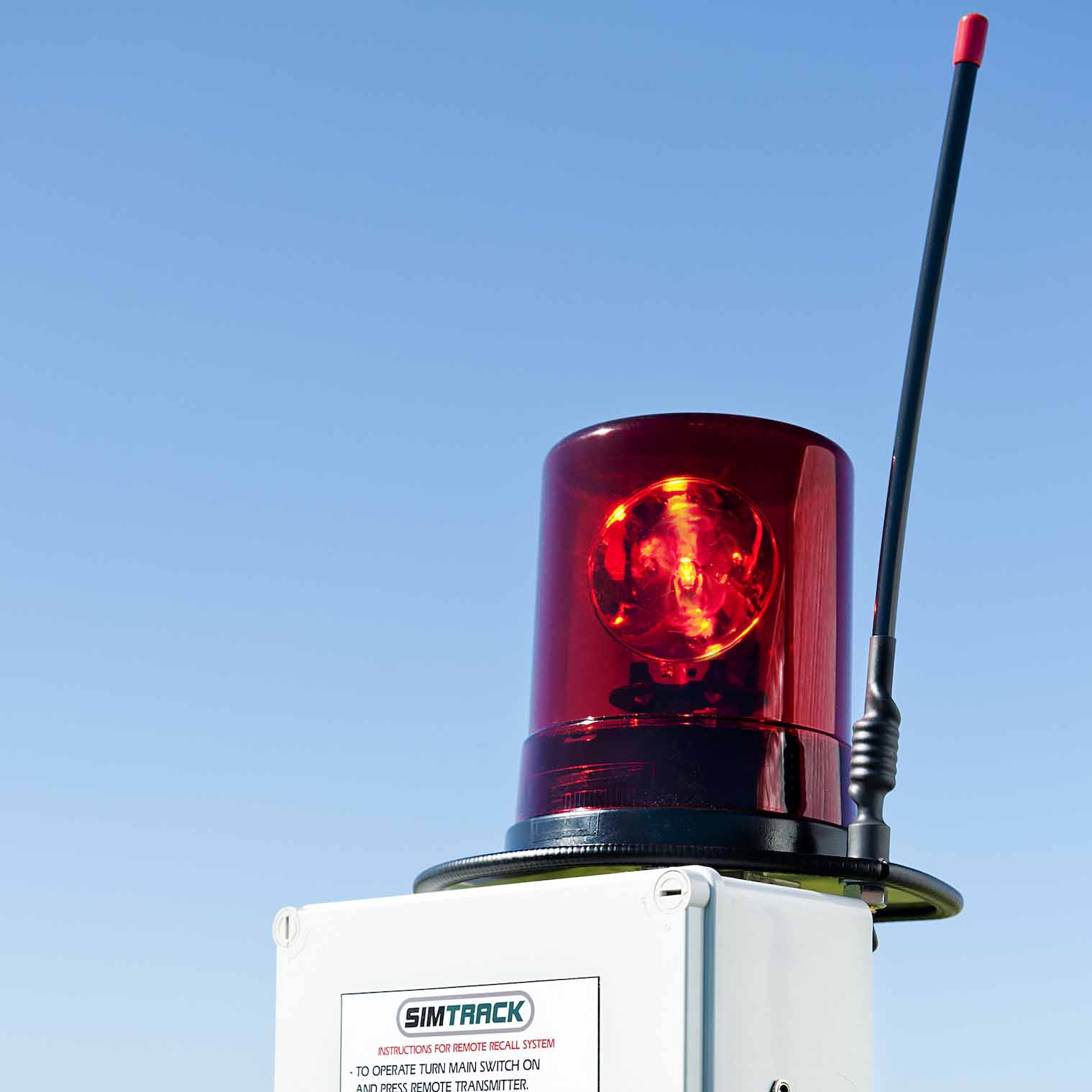 Remote recall systems
False starts are indicated with flashing red light and an alarm.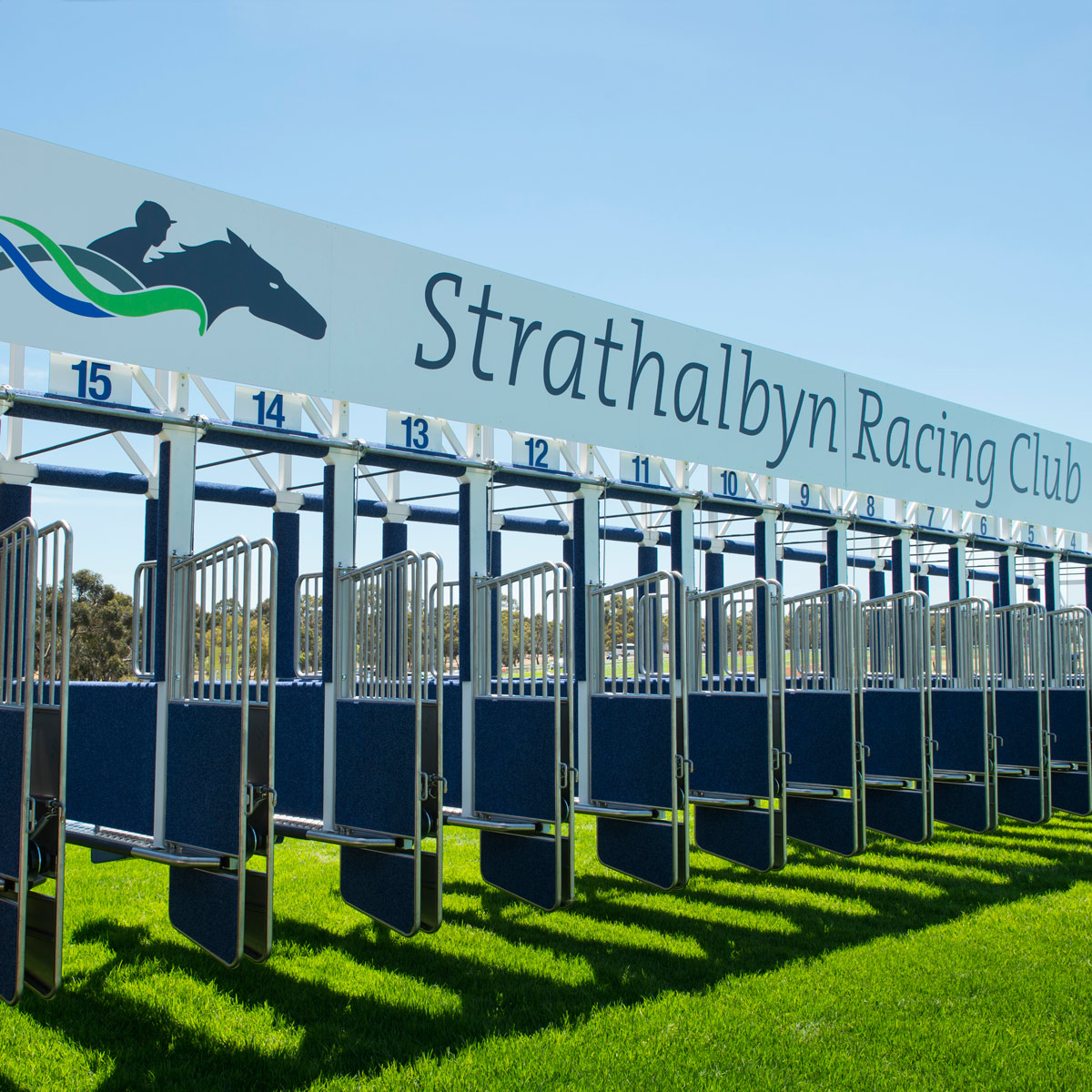 Overhead sponsors signage
Adequate space for track signage or sponsor.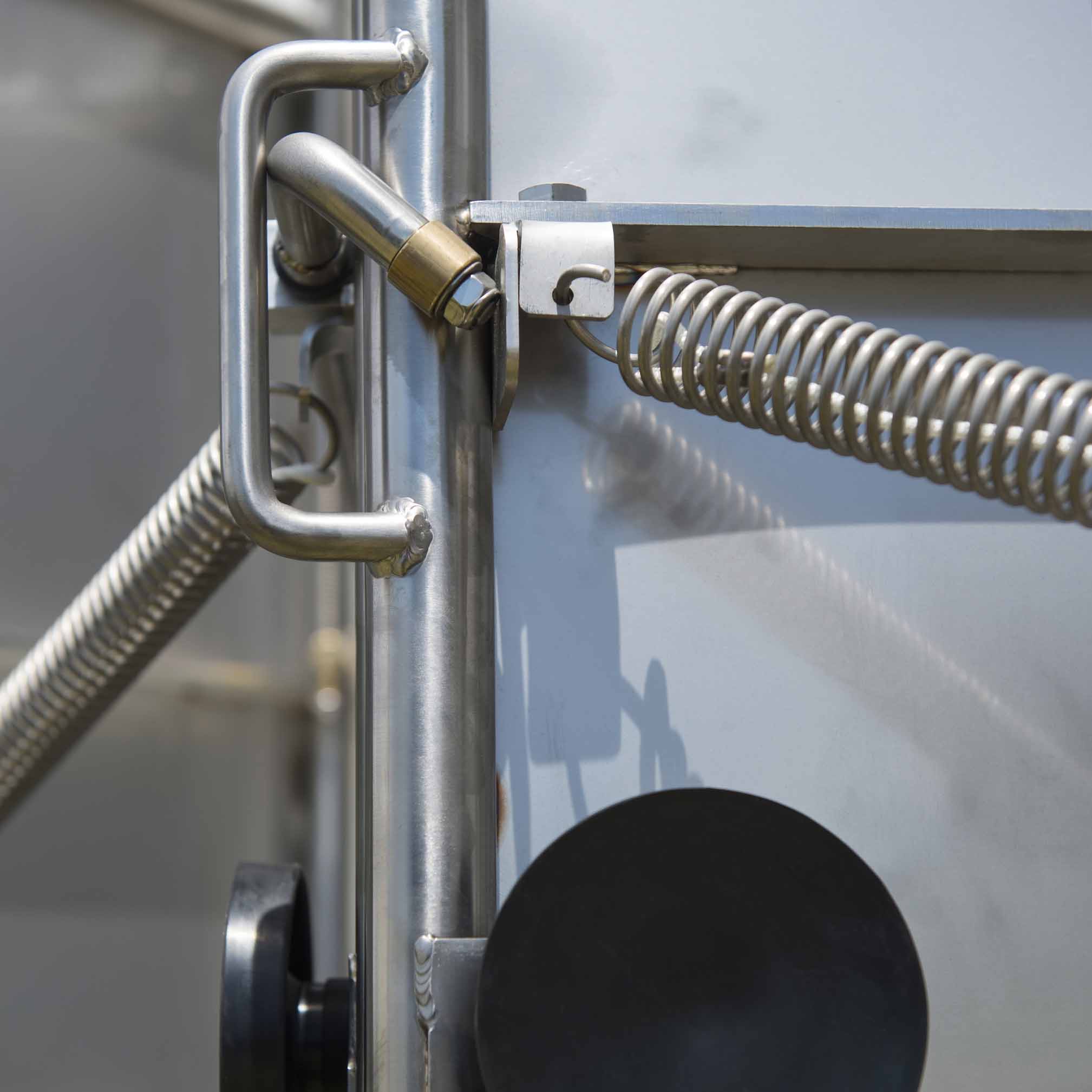 Materials
Only top quality materials used across our entire range of products.
High Tensile Rectangular Hollow Section steel, Stainless steel, UV stable plastics and claddings
Ultra high durability carpets and foam paddings
High grade electronic components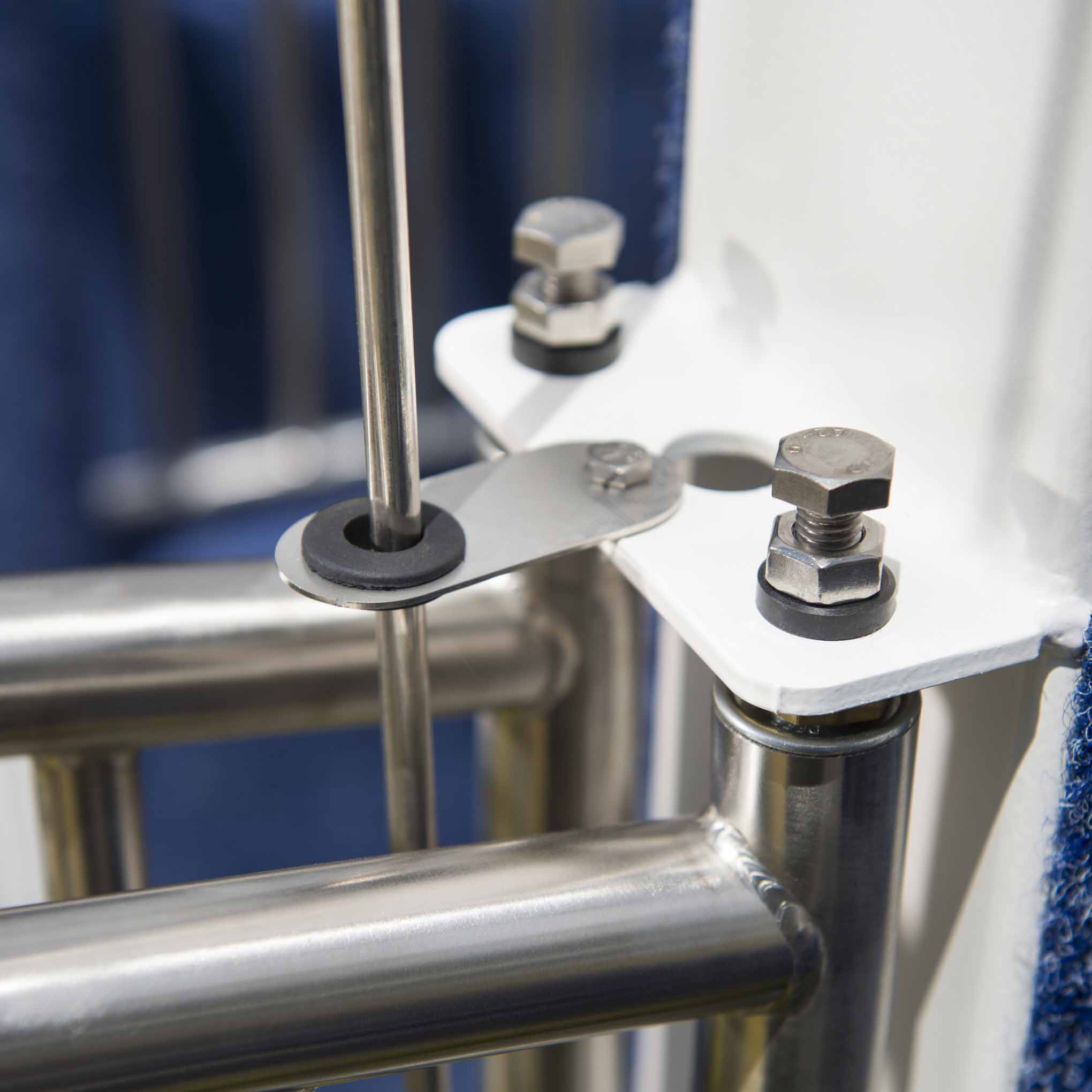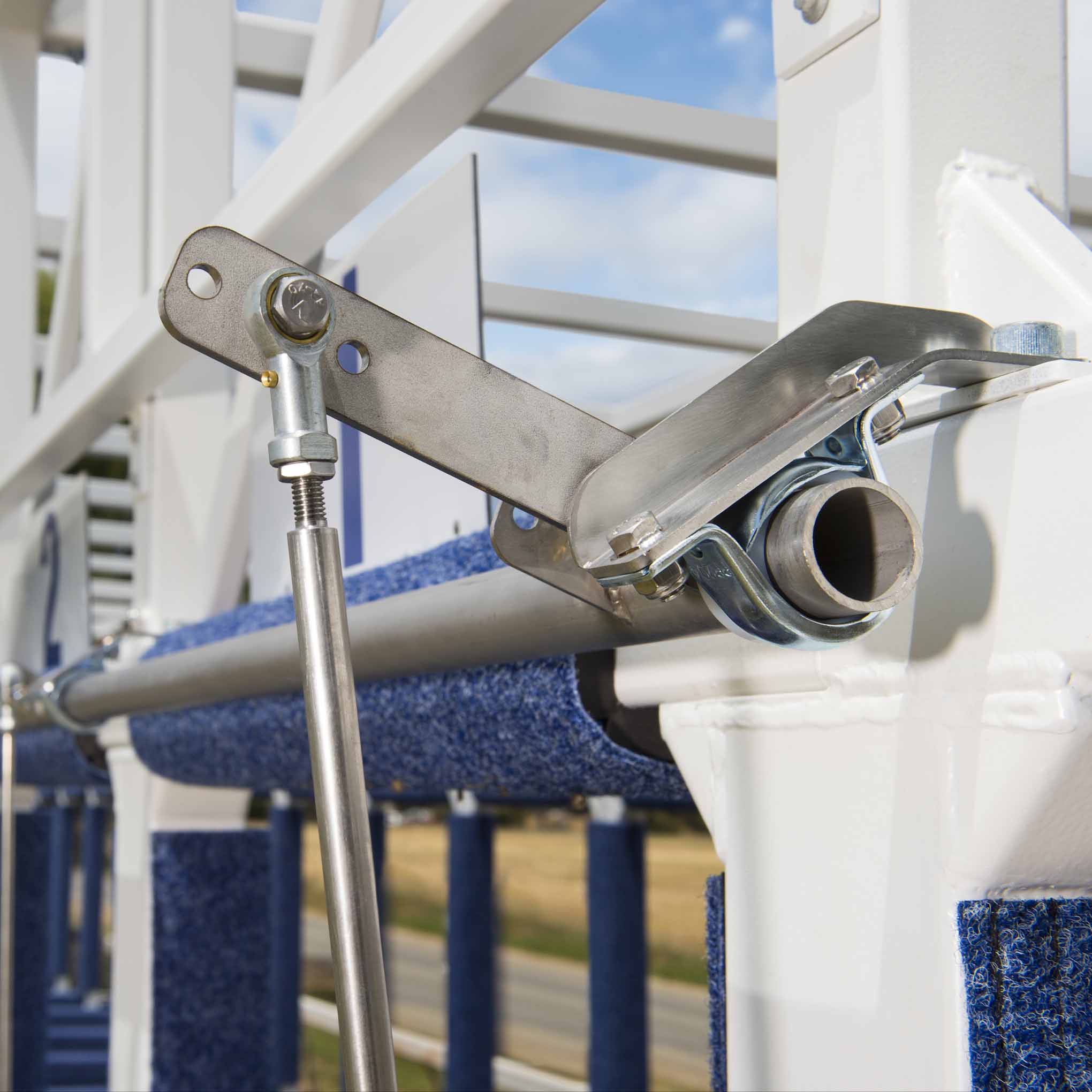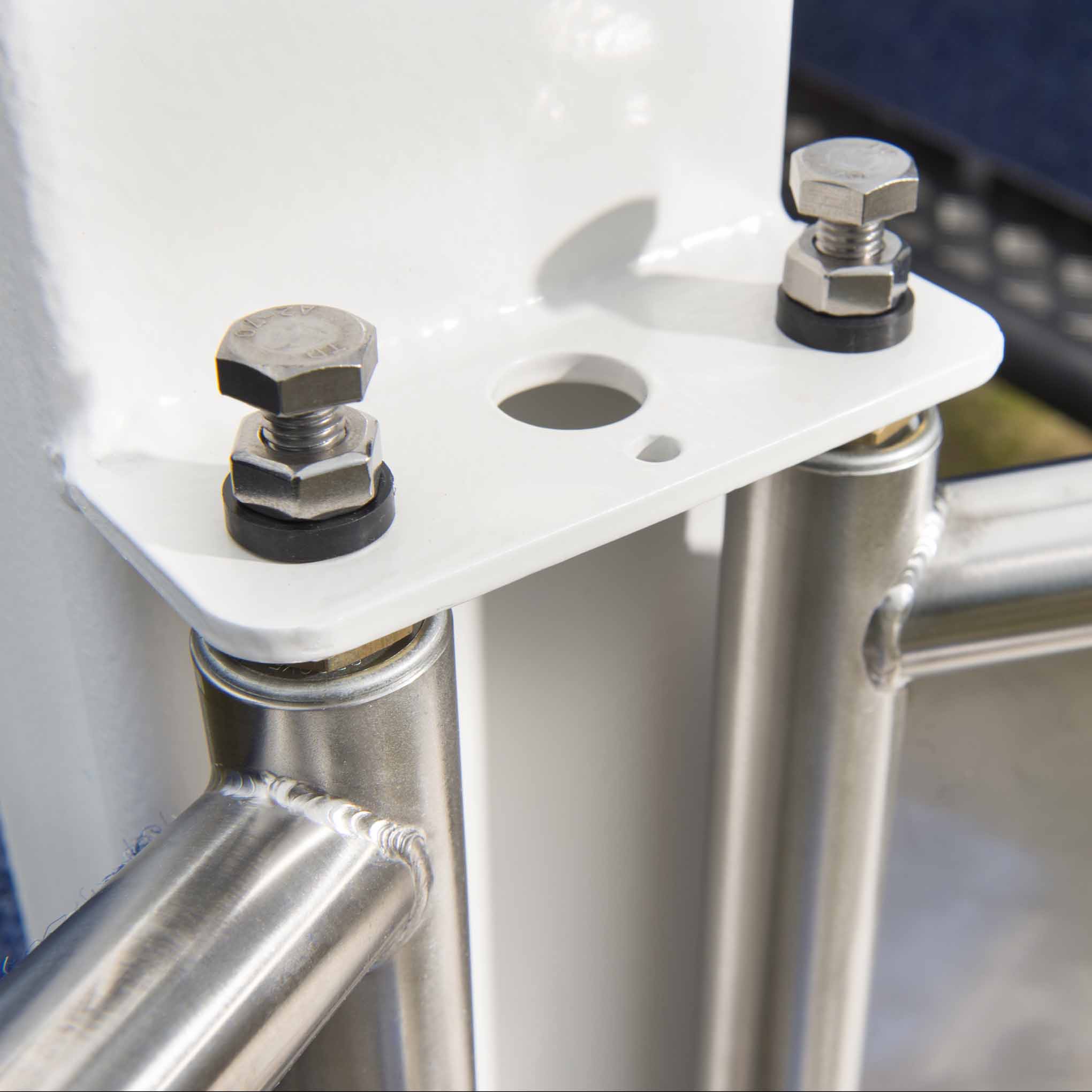 Gate release mechanisms
Built from high grade stainless steel, adjust components which minimise noise wherever possible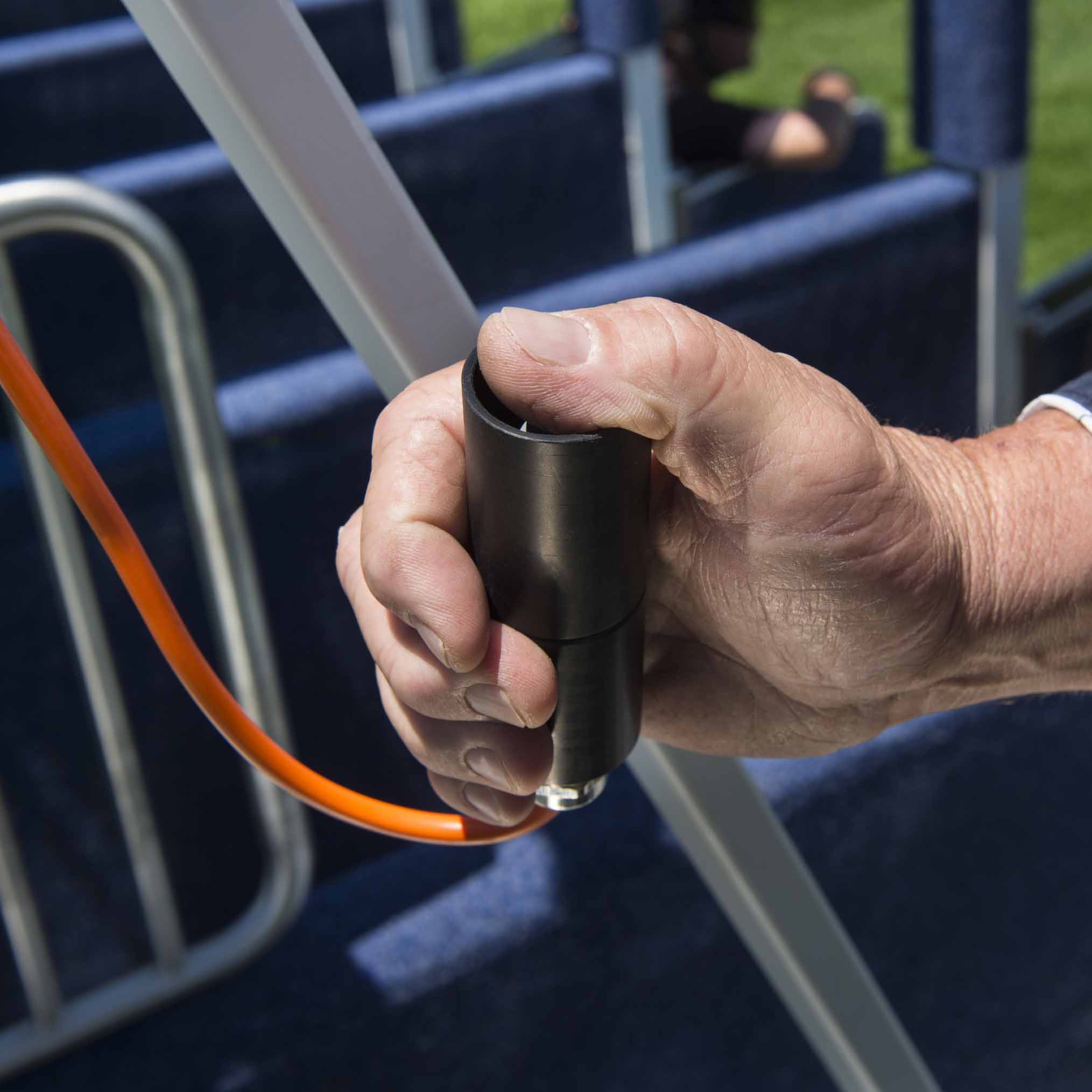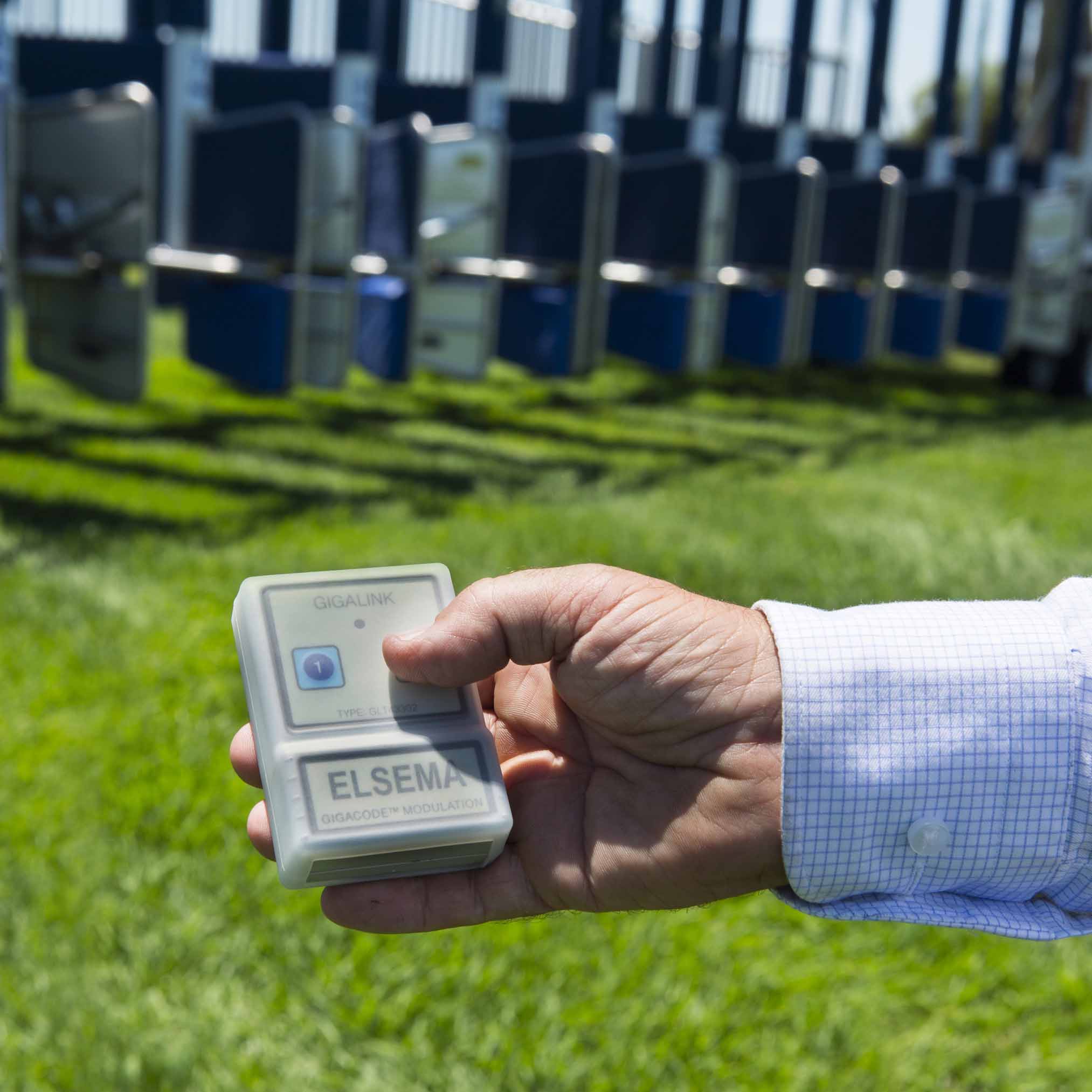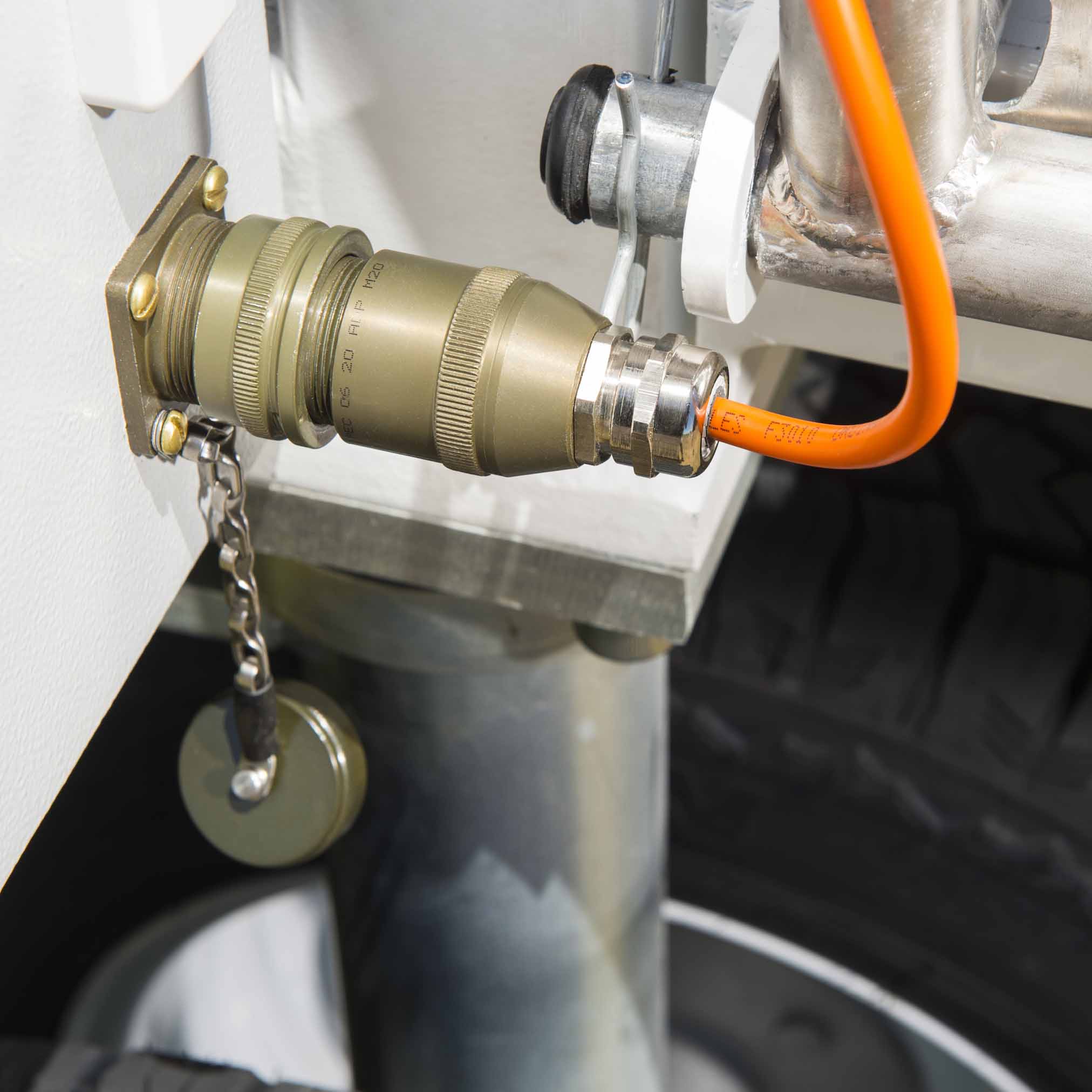 Start triggers
Built from high end components with onboard or remote options.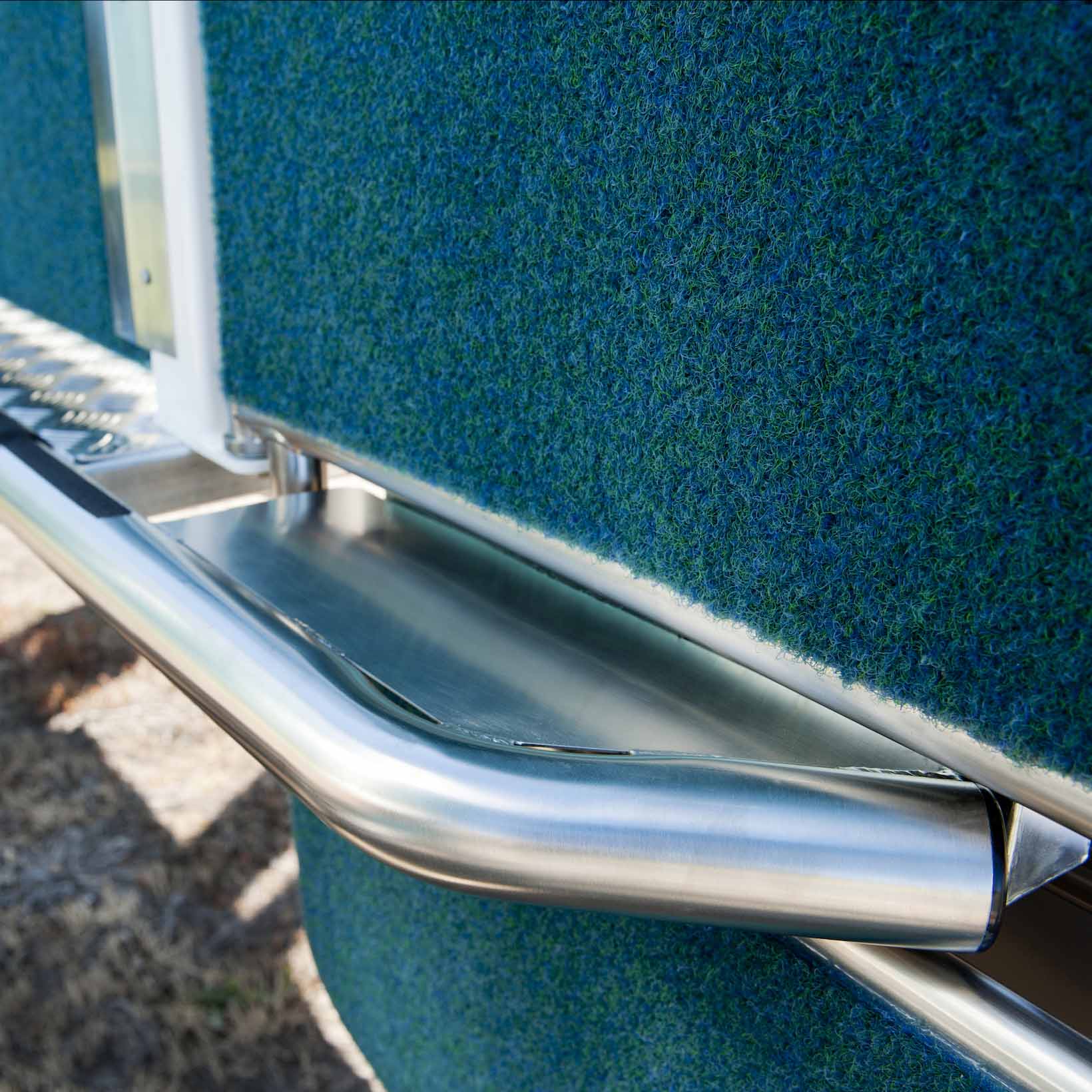 Stainless Steel Platform riggers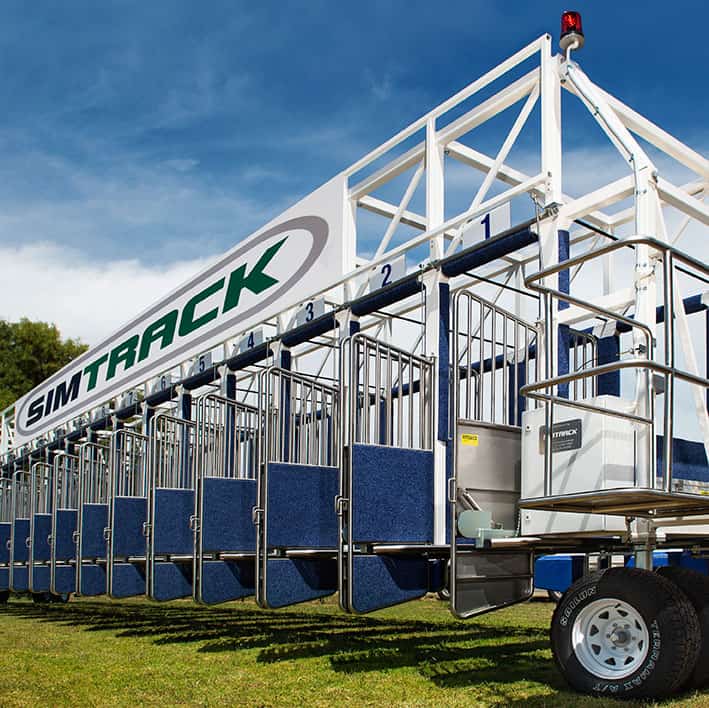 Road Registered / Transportable
Ideal for clubs who share facilities
Custom made trailers are available for long distance haulage in remote areas.
Low ground clearance
Eliminates the escape of crafty horses.
SERVICE & WARRANTY
Standing By
We match our commitment to making the worlds best racing equipment with world class service for our clientele. Customers from all corners of the globe have commented on the extra care we have shown as a matter of course. We make it easy too, being contactable 24 hours a day, 7 days a week, 365 days of the year. Simtrack are the only producer to provide a full manufacturer's written warranty for a period of THREE years from the date of purchase, with an optional extended FIVE year warranty available.
Mobile Starting Gate Assembled sizes in meters
Length is with Tow bars in upright position.
Above width is with Gates closed, opened width is 3.1 meters.
* WEIGHTS ARE ESTIMATES ONLY.

| Size | 2 | 3 | 4 | 5 | 6 | 7 | 8 | 9 | 10 | 11 | 12 | 13 | 14 | 15 | 16 | 17 | 18 | 19 | 20 |
| --- | --- | --- | --- | --- | --- | --- | --- | --- | --- | --- | --- | --- | --- | --- | --- | --- | --- | --- | --- |
| Length | 3.9 |  4.85 | 5.8 |  6.75 |  7.7 |  8.65 |  9.6 |  10.55 |  11.5 |  12.45 |  13.4 | 14.35 |  15.3 |  16.25 |  17.2 |  18.15 |  19.1 |  20.05 |  21 |
| Width | 2.8 |  2.8 |  2.8 |  2.8 |  2.8 |  2.8 |  2.8 |  2.8 |  2.8 |  2.8 |  2.8 |  2.8 |  2.8 |  2.8 |  2.8 |  2.8 |  2.8 |  2.8 |  2.8 |
| Height | 3.9 |  3.9 |  3.9 |  3.9 |  3.9 |  3.9 |  3.9 | 3.9 |  3.9 |  3.9 |  3.9 | 3.9 |  3.9 |  3.9 |  3.9 |  3.9 |  3.9 |  3.9 |  3.9 |
| *Weight | 1.2 |  1.50 |  1.80 |  2.10 |  2.40 |  2.70 |  3.00 |  3.30 |  3.60 | 3.9 |  4.20 |  4.50 |  4.80 |  5.10 |  *5.4 |  5.75 |  6.10 |  6.45 |  6.80 |
Additional height for Mobile Gates
| Size | All Sizes |
| --- | --- |
| Height with standard foldable promo sign up (top mounted) | 4.9 |
| Height with standard foldable promo sign down (top mounted) | 4.2 |
| Height with fixed position promo sign (drop down mount) | 4.45 |
| Height with fixed position low promo sign (drop down mount) | 4.15 |
Simtrack fixed position Starting Gate in meters
Length is to outside of frame, add extra 0.2 meter for Base Plates.
Above width is with Gates closed, opened width is 3.1 meters.
| Size | 2 | 3 | 4 | 5 | 6 | 7 | 8 | 9 | 10 |
| --- | --- | --- | --- | --- | --- | --- | --- | --- | --- |
| Length | 2.7 |  3.65 |  4.6 |  5.55 |  6.5 |  7.45 |  8.4 |  9.35 |  10.3 |
| Width | 2.8 |  2.8 |  2.8 |  2.8 | 2.8 |  2.8 |  2.8 |  2.8 |  2.8 |
| Height | 3.2 |  3.2 |  3.2 |  3.2 |  3.2 |  3.2 |  3.2 |  3.2 |  3.2 |
The safest place on the track
Both jockey and trainer can be confident knowing that they are using the safest barriers for both themselves and their mount. Simtrack have gone to great lengths to ensure the absolute safety for horse, handler and rider, from entry to exit, in their starting stalls. Their safety designs include extensive padding material on possible impact zones, and greater headroom to ensure increased safety for animal and rider.
Simtrack offers more safety than any other starting gate on the market. We have achieved this through a combination of stream line design, clever structure, horse friendly running boards and unobtrusive handles in those critical places for entry, exit and in case of an emergency.
Through ingenious engineering Simtrack have eliminated the mess and danger of the truss internal overhead structure found in other gates and replaced it with a safety overhead pull-up handrail. This simple solution offers stability as well as escape options for rider and handler from within the stall if needed.
Operation of the rear gates is with the single action release mechanical lever or the more advanced hydraulic system. Both of these designs provide solid, secure containment behind the horse, with easy release even when the animal is leaning back against the gate.

Less stress, a better performance
We believe Simtrack starting gates create the ultimate conditions for a confident rider and a focused horse. The actuation of the front gates with our traditional mechanical system is by far the quietest on the market. Our hydraulic system is so quiet it truly needs to be experienced to be believed. A significant by-product from using high-density foam padding and the 1250gm carpet cover is the dramatic reduction of rattles and mechanical noise within the overall structure of our barriers.
An end to false starts
False starts, through mechanical or electrical failure, greatly increase risk of injury to anyone in the gates as well as loss of race income. Simtrack have developed not only a far more reliable mechanical release, but also an exclusive electrical fail-safe operating system that uses "Power ON" to start.
Starting gates normally implement an inferior mechanism, which terminates the power supply in order to release the barriers. Our 'power ON" to start system has eliminated the potentially dangerous situation of a premature start if the power supply is interrupted in any way during the loading of horses.
Simtrack gates remain safely closed in the event of a power failure and an automatic diagnoses LED will illuminate to indicate where the problem exists.

Pointing you in the right direction
The ease of manoeuvrability is one key reason that Simtrack gates are so sort-after. Simtrack, once again, has found the simplest resolve by manufacturing around great components that are easy to maintain. By using dual wheels, we have reduced the impact on the track surface and added to the overall stability of the structure. The use of sealed bearings in the wheels makes servicing unnecessary.
Our autonomous on-board control systems for hydraulic steering have done away with the required external power or clumsy coupling to the tow vehicle. Our most advanced steering system features remote control, and an automated ram relief valve that disconnects the hydraulic ram if the gate is towed from its opposite end.

Customisations & commissions
We love a challenge. If any products on the market do not meet your racing requirements, we can modify or even completely redesign our gates to fit your needs. Simtrack's chief designer, Tony Sims is the leading authority of race gate design in the world. If he can't come up with a beautifully simple resolution, no one can.